Why You Should Be Adding Horchata to Your Iced Coffee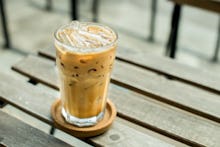 It's easy to develop palette fatigue during the hot months when guzzling iced coffee after iced coffee becomes standard. 
Fortunately, there are a number of ways to upgrade that glass of iced coffee without having to whizz it in a blender with a bucket of sugar a la Starbucks' Frappuccinos. Methods include adding a splash of milk, a drizzle of a flavored syrup or even a dose of soda water to the drink. However, one of the tastiest methods is to combine the coffee with horchata. 
Horchata is a rice-based drink that is popular in Mexican cuisine, Serious Eats noted. While there are many regional variations, it's traditionally made with ground rice and almonds, though it can also be made with barley and melon seeds, that have been soaked, strained and then mixed with water, sugar, cinnamon and sometimes vanilla. The result is a flavor-packed, creamy drink — even though it's inherently dairy-free. 
So it's not hard to imagine that horchata would be delicious with coffee in place of regular accouterments like milk — dairy or otherwise. Not only does the drink offer up a milky element, it balances out the bitter coffee flavor with its cinnamon and vanilla flavor. And because it's already sweetened, there is no need to fiddle with any packets of sugar. 
How to make Cochata
To make horchata coffee, which is sometimes called a "cochata," The Kitchn recommends mixing equal parts iced coffee and chilled horchata. For the best results, pass up on older batches of iced coffee for a freshly made brew, or do as the popular Los Angeles taco spot Guisados does, and mix the horchata with cold brew for an extra smooth result. 
Even though it's easy to find pre-made horchata, it's not that difficult to whip up your own batch, as long as you have a blender and a cheesecloth to strain the mixture. Don't feel like using any elbow grease? You could just hit up one of the many coffee shops and restaurants around the country that have now added it to their menus. 
While cochata makes for delicious treat, you might want to regard it exactly as that, and not make it part of your daily morning ritual.  A cup of pre-made horchata by Rice Dream contains 160 calories and 18 grams of sugar, tough you'd ostensibly only be using half a cup for your cochata mixture — so the nutrition stats could be worse as far as sugary coffee drinks go. However, for those avoiding dairy, horchata is a great way to shake up your standard cup — especially on the days you're out of almond milk. 
Read More: