Azealia Banks and the Internet Just Slammed Zayn Malik for This Police Brutality Tweet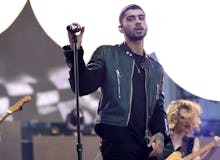 On Friday morning, Zayn Malik responded to a tweet that accused him, Justin Bieber, Kim Kardashian West and Taylor Swift of benefitting from black culture, but being unwilling to speak out against police brutality. 
Malik quoted the tweet and wrote, "Meanwhile I'm brown myself, and understand it's nothing to do with police brutality it's about minority equality." Many felt Malik's tweet downplayed the American police brutality epidemic.
Kardashian West changed her entire website to a #BlackLivesMatter message in honor of Alton Sterling and Philando Castile on Friday. 
Though Azealia Banks is off Twitter after her "curry-scented" spat with Malik, she's still aware of what goes down in the Twitterverse. On Friday, Banks posted a screenshot of Malik's tweet, which he has since deleted
Along with the tweet, Banks wrote, 
I'm going to leave this here. Sidebar: where's fry ratson? Is she going to police this? Is she going to jump off her tricycle and put down her teething ring to address this? WHAT AN EFFING WANNABE!! #poser #loser #wrongdirection.
"Fry ratson" is a reference to Disney star Skai Jackson, with whom Banks also got into a Twitter spat — the same night as Malik. 
Banks was not alone in calling out Malik's comments. Several online commenters called his tweet "dumb" and thought that, as a non-American and a non-black person of color, that Malik should either use his platform to speak out against police brutality or not speak. 
One Twitter user even took it upon herself to educate Malik about the history of police brutality in the United States, beginning with how police were formed. 
Malik also tweeted "Love humans!" on Friday, but many were unhappy that he had not gotten the point about black lives. 
The original Twitter user who posted the tweet pointing out that Malik did not speak about police brutality also responded to Malik's tweet for universal love. 
Read more: