Transgender Men Will Now Be Accepted Into One of America's Oldest Fraternities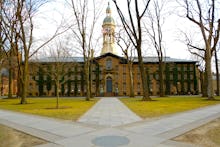 Transgender men looking to join a fraternity may now join any chapter of Chi Phi, one of America's oldest fraternities. The body declared that anyone who is legally recognized as male is eligible for membership, regardless of gender at birth.
"We felt this amendment to Chi Phi's Constitution would change the conversation surrounding transgender men and their ability to join the Fraternity," Sam Borchart, undergraduate chairman of the Committee of Membership, said in a press release. 
He added, "One change is never a stopping point, and we hope this opens the door to further discussion about inclusivity, particularly for transgender men who want to join us in brotherhood."
The National Center for Transgender Equality praised the fraternity's inclusive move, but had reservations about the necessity for "valid legal documentation" expressed in its press release. 
"All educational programs and facilities, including Greek life, should be open to trans and all students," said Mara Keisling, Executive Director for the National Center for Transgender Equality, according to ABC News. "We would caution the fraternity that their use of the 'valid legal documentation' as a definition of who may join Chi Phi still will limit many of the people they hope to expand to include."
Given the many legal frustrations and blockades that come with changing one's legal gender, requiring legal documentation will no doubt be an impediment to those looking to join. 
The move is part of an overall shift in Greek life to be more trans inclusive. While individual chapters have made the move, Chi Phi's decision to make all chapters inclusive is especially bold given its legacy — Chi Phi has been home to many governors, senators, congressmen and anchorman Walter Cronkite.
Of course, introducing trans youth into fraternity culture may prove difficult, given the realities of racism and rape culture that are inherent to many aspects of Greek life. Hopefully Chi Phi can not only include trans members, but keep them safe, as well.
Read more: