This Emotional Letter Written by Philando Castile's Former Student Shows How Loved He Was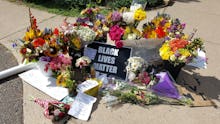 A heart-wrenching letter written by a former student of Philando Castile is making the rounds on the internet. Its message is testament to just how loved Castile was loved by the children he helped to take care of.
Addressed to "Mr. Phil," the letter pays tribute to Castile, who died after he being shot five itimes by a police officer during a routine traffic stop. The fact that the aftermath of the shooting was captured on Facebook Live, coupled with the death of Alton Sterling the day before, also at the hands of police, reignited Black Lives Matter protests across the United States.
"Your the best lunch man we could ever have I wish you were alive. You have rainbows in your heart!" it reads.
In an interview, Chad Eisen-Ramgren said that the note was penned by his 8-year-old daughter, Leila, who, along with her younger brother, Dylan, attends the J.J. Hill Montessori Magnet School in St. Paul, Minnesota, where Castile formerly worked as a cafeteria supervisor for more than a decade.
Eisen-Ramgren said that on Thursday he and his children, along with other students, parents and community members, attended a packed vigil for Castile outside the school. By Friday, he said, Leila wanted to write her own letter to honor Castile's life.
Eisen-Ramgren said that he teared up when he noticed that his daughter had included her lunch number on the front of her card.
"Normally such a trivial thing in life, but it clearly became something more to her after Mr. Phil's sudden passing," he said.
In a press conference on Thursday, just hours after he was gunned down, his girlfriend, Diamond Reynolds, sobbed as she told reporters that Castile "was a hardworking man," with no criminal history or gang affiliations.
"They took my lifeline, that was my best friend. ... He killed him in front of us for no reason," she said.
Joan Edman, a former coworker of Castile's, told Time that he was a "role model" who went out of his way to memorize the names of the 500 children he worked with in the school's cafeteria daily, an account that Eisen-Ramgren echoed.
"At the vigil, I heard stories from other parents about how he was aware of so many students dietary needs. Kids with lots of allergies, of selective eaters, and how he'd go out of his way to make sure they were getting enough to eat. He was a very calming presence at the school," he said.
Read more: