Donald Trump Bid $120,000 For Vineyard Tour With "Salma Hayek and Her Breasts"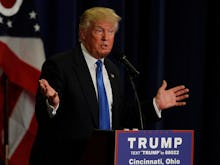 In 2008, now-presumptive Republican nominee for president Donald Trump paid $120,000 of the charitable Donald J. Trump Foundation's money for a private tour of one of Paris' finest vineyards and a meal with Oscar-nominated actress Salma Hayek.
But Trump was likely paying at least in significant part with other donors' money, and he never even bothered to fly to Paris and take the tour, reported BuzzFeed on Friday.
According to the New York Daily News, comedian Chris Rock, who served as an auctioneer at the Gucci Foundation-sponsored event, touted the vacation as a premiere experience involving a meal with "Salma Hayek and her breasts." (As BuzzFeed noted, dining with Hayek and the auction winner would be the actress's husband, French billionaire François-Henri Pinault.)
Yet Trump staffers confirmed the tour never happened. His foundation never filed tax paperwork which could have indicated if he gave it to another individual.
Notably, Trump says he never drinks alcohol, making a vineyard tour a strange choice of vacation.
The Donald J. Trump Foundation's tax returns showed a $107,000 "charitable contribution" to the Gucci Foundation, while the Gucci Foundation showed a $145,000 contribution from Trump's. According to BuzzFeed, a Trump staffer "said the difference between the two amounts on two foundations' 990s was because the Trump Foundation deducted the value of the trip and the price of the table at the event."
In 2008 and 2007, BuzzFeed reported, Trump gave $30,000 annually to his foundation. At least one donor, the Willard T.C. Johnson Foundation, gave significantly more in 2008: $250,000.
Conveniently enough, the event was held on the same day Gucci opened a flagship store in Trump Tower.
Earlier this month, the Washington Post reported Trump used $12,000 of the foundation's money to purchase a signed Tim Tebow football helmet. Trump has made no personal contributions to the foundation in three years — and tax attorney Brett G. Kappel told the paper if Trump had the Tebow memorabilia on display somewhere, it would constitute a "classic violation" of laws prohibiting the use of charitable organizations being operated for private gain.
Despite making promises of millions of dollars in contributions, since 2008 Trump has only made two charitable contributions, according to the Washington Post: a 2009 donation of $5,000-9,999 to the Police Athletic League of New York City, and a 2016 donation of $1 million to a veteran's group. The latter donation only occurred under significant media pressure.
Read more: