Joe Walsh Insists His Post-Dallas Shootings Tweet Wasn't a Threat at President Obama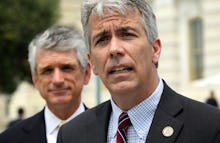 The ex-congressman from Illinois who drew ire earlier this week for racially charged tweets in the wake of the murder of five police officers and wounding of six others in Dallas defended his rhetoric in media appearances on Friday.
Joe Walsh, formerly a Republican representative from Illinois' eighth congressional district, responded to news of the massacre that begun at a peaceful Black Lives Matter rally by posting, "3 Dallas Cops killed, 7 wounded. This is now war. Watch out Obama. Watch out black lives matter punks. Real America is coming after you."
Several hours later, the tweet disappeared amid accusations Walsh had threatened the president's life.
"I wonder what he means by 'real America,'" Mic's Cooper Fleishman wrote. "Unless he's talking about Native Americans forming a warring militia and 'coming after' Black Lives Matter and Obama, it sure seems like Walsh is talking about white people taking back their country from everyone else."
On Friday night, however, Walsh told CNN's Don Lemon "I didn't intend to say everybody go threaten Barack Obama or incite violence against Barack Obama. I don't know of a sane person that would do that. That's not what I meant, Don."
He added "there really is a war on our cops," and that, "The last couple of years, Barack Obama has done nothing but hate on cops. Accusing cops of being bad and racist ... when people on the street hear the President of the United States time after time say that there is racism in police departments all over the country, man, that kind of hating leads to what you got in Dallas."
In a separate interview with the Chicago Tribune, Walsh said Twitter had locked his account for violating the platform's policies on threats of violence.
"Twitter, Facebook — they're all liberal," Walsh complained. "They're private companies and they got their standards that I have to follow if I want to be on Twitter. It is what it is ... the precondition for me reopening my account was they had to delete that tweet."
In 2014, Walsh was kicked off the air after using racial slurs in a discussion on the Washington Redskins.
According to the Tribune, in 2012 Walsh suggested there was a threat posed by "radical Islam ... it's in Elk Grove, it's in Addison, it's in Elgin." This outraged local Muslims. The same year, Walsh said "true heroes" rarely boast of their service in a reference to Tammy Duckworth, his Democratic opponent, who lost both legs during the Iraq War.
Read more: