Minneapolis and Baton Rouge Black Lives Matter Protests Bring Cities to Screeching Halt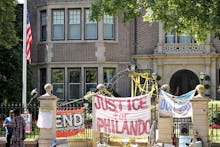 On Saturday night, Interstate 94 in Minnesota was blocked off by Black Lives Matter protestors in response to the murder of Philando Castile. At the same time, protestors in Baton Rouge were met with force.
In both cases, the protests started peacefully — a rally in front of the Minnesota Governor's Mansion in St. Paul, Minnesota, made its way to the highway, halting traffic in both directions. But in Baton Rouge, according to Black Lives Matter members present, that peace wasn't matched by law enforcement.
As the sun went down, police moved on the protestors.
"The police did this," Black Lives Matter activist DeRay Mckesson told Mic via text message Saturday night. "The police provoked protestors tonight."
This week, Alton Sterling of Louisiana and Philando Castile of Minnesota became the 114th and 115th known black men to be killed by police officers in the United States.
Read more: