DeRay Mckesson, Black Lives Matter Activist, Released After Saturday Arrest in Baton Rouge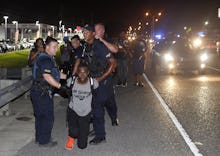 Authorities have released DeRay Mckesson, one of the leading voices behind the Black Lives Matter movement, from jail, where he was held overnight. Mckesson was arrested Saturday night during contentious protests in Baton Rouge, Louisiana, for Alton Sterling, a black man killed by police officers while selling CDs outside of a store. 
Mckesson, who was one of hundreds marching the Airline Highway, was livestreaming on Periscope at the time of his arrest, according to the New York Times. 
Many tweeted that Mckesson was detained while peacefully protesting and that he was targeted by police.
In a text exchange with Mic prior to his arrest, Mckesson said police were the reason that the once peaceful protest turned tense. "The police did this, The police provoked protesters tonight," Mckesson said.
Mckesson spoke the Washington Post's Wesley Lowery through text message after he was detained, saying many protesters who were arrested along with him said their hand restraints were too tight.
Mckesson was charged with "simple obstruction of a highway of commerce," according to an affidavit posted to Twitter.
In an interview with the Advocate, a police official said protesters were being arrested for blocking roadways. 
The demonstration in Baton Rouge was just one of several across the nation Saturday evening, protesting the deaths of black men at the hands of police.
July 10, 2016, 4:38 p.m. Eastern: This story has been updated.
Read more: