Beyoncé Posts Instagram Tribute to Fallen Dallas Police Officers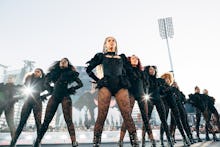 A message posted to Beyoncé's Instagram account on Saturday paid tribute to the 5 police officers killed in a violent shootout in Dallas on Thursday in the immediate aftermath of a peaceful Black Lives Matter protest. 
Beyoncé, a Houston native, posted an animation of the slain officers' names against the backdrop of a billowing black-and-white Texas flag.
"Rest in peace to the officers whose lives were senselessly taken yesterday in Dallas," she wrote. "I am praying for a full recovery of the seven others injured. No violence will create peace."
The singer has famously drawn criticism in the past for being "anti-police", specifically after the release of her music video for "Formation," which included imagery of sinking police cruisers, a young black boy dancing in front of a line of police in riot gear and the message, "Stop shooting us," scrawled on a brick wall.
In a May interview with Elle, Beyoncé refuted claims that her music has taken an overt stance against police.
"Anyone who perceives my message as anti-police is completely mistaken," she told the magazine. "I have so much admiration and respect for officers and the families of officers who sacrifice themselves to keep us safe."
"But let's be clear," she continued, "I am against police brutality and injustice. Those are two separate things."
After her performance of "Formation" at the 2016 Superbowl, in which her accompanying backup dancers wore black leather outfits and berets that seemed a clear nod to the Black Panther movement of the 1970s, former Mayor Rudolph Giuliani spoke out, calling it "...really outrageous that she used it as a platform to attack police officers."
In the caption accompanying Saturday's Instagram tribute, the singer seemed keen on dispelling the notion that she intended to incite violence against police.
"We must be the solution. Every human being has the right to gather in peaceful protest without suffering more unnecessary violence," she wrote. "To effect change we must show love in the face of hate and peace in the face of violence."
Read more: