Two Memphis Police Officers Suspended Over Racist Snapchat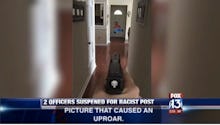 On Thursday night, a sniper opened fire on a peaceful Black Lives Matter protest in Dallas, Texas, killing five of the 12 total police officers he hit. 
Also on Thursday, an officer in Memphis, Tennessee, shared a photo on Snapchat that makes all too clear the connection between racism and police shootings: an image of his white hand aiming a gun at a black running man emoji, local Fox News affiliate Fox13 reported. 
"I'm angry, frustrated and disappointed that we continue to go down this path," Memphis Police Department interim director Michael Rallings said in a press conference. "We cannot survive if we do not work together. We are not your enemy, we are your ally."
While no word has been released on the officer's name or motive, it's hard to imagine the picture wasn't related to the recent deaths of two African-American men — Philando Castile in Falcon Heights, Minnesota, on Wednesday and Alton Sterling in Baton Rouge, Louisiana, on Tuesday — at the hands of police. 
"The image is disgusting and will not be tolerated," Rallings said. But the officer responsible for the snap, as well as another officer who reposted the picture to Twitter, haven't been permanently removed from the MPD; rather, they've been suspended, with pay — a fact that has some on social media bristling. 
"South Memphis Police officer posted this on snapchat & only got suspended?" one Twitter user wondered. "So he's gettin his job bck eventually? smh."
According to Fox13, the officers who shared the photo did so out of "disgust and anger." Both will be subject to a "thorough investigation" by the MPD, Rallings said.
"We are certainly responsible for the decisions we make," he added, "and we are held to a higher standard." 
Read more: