Black Lives Matter Protests Across Country Result in Hundreds of Arrests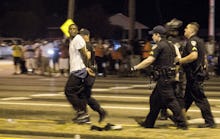 Black Lives Matter protests against the police killings of black men Philando Castile and Alton Sterling continued unabated on Saturday just days after a gunman opened fire in Dallas killing at least five police officers and wounding nine other people. Thousands of people showed up to rallies across the U.S.
At least 198 people landed in jail in "New York and Chicago and in St. Paul, Minnesota, and Baton Rouge, Louisiana," the latter two cities being where Castile and Sterling were respectively shot to death by local authorities, CNN reported on Sunday.
Among those arrested in Baton Rouge was prominent civil rights activist DeRay McKesson, who was detained alongside 124 others. Additional protests were reported in Washington, D.C., Atlanta, Miami and Fort Lauderdale, Florida, among other cities, according to CNN.
In St. Paul, NBC News reported, law enforcement claimed people on an overpass were "throwing objects at officers, dumping liquid on officers" and that protesters had thrown construction materials at police. At around 10:30 p.m., they announced remaining demonstrators must "leave the interstate now or you'll be subject to a use of force," and by about two hours later they had successfully dispersed the crowd.
According to the New York Times, McKesson was arrested on Airline Highway in Baton Rouge after officers threatened him and others with arrest for walking on the road (there was no sidewalk to move to, McKesson told viewers via live-streaming app Pericope). Local public radio station WWNO confirmed on Twitter one of its reporters had also been arrested.
Brittany Packnett, one of the activists who co-founded anti-police violence group Campaign Zero with McKesson, told the Washington Post "The officers won't give their names. He was clearly targeted ... They tackled him. One officer hit the top of his body and another officer the bottom."
According to the East Baton Rouge Sheriff's Office website, McKesson remained under arrest at the parish prison as of Sunday morning.
Protesters in Fresno, California attempted to gain access to State Route 41 but were turned away by a line of riot police, NBC News wrote, while others in San Francisco blocked access roads heading to the Bay Bridge. In Chicago, demonstrators attempted to disrupt a city-sponsored music festival.
Additional marches were held in Pittsburgh, Pennsylvania and Philadelphia, though NBC 10's Drew Smith reported no arrests were made in the latter city.
While the New York Times reported the Dallas shooting, which was reportedly carried out by a man sympathizing with the Black Lives Matter movement, has thrown the group into crisis, the protests on Saturday still had some high-profile allies.
President Barack Obama defended the right of the activists to gather during an appearance before reporters in Madrid, Spain, CBS News reported.
"One of the great things about America is that individual citizens and groups of citizens can petition their government, can protest, can speak truth to power," Obama told the press. "And that is sometimes messy and controversial but because of that ability to protest and engage in free speech, America over time has gotten better. We've all benefited from that."
"There were times when activists engaged in rhetoric that was overheated and occasionally counterproductive, but the point was to raise issues," he added. "... I think what you're seeing now is part of that long standing tradition."
Read more: