How Kanye West Secretly Changed Men's Fashion Forever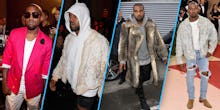 At Kanye West's latest Yeezy show, a cast of diverse models stood in silence in the middle of Madison Square Garden. Some wore neutral spandex and chunky knits in warm colors, while others wore hoodies in shades of green and brown. Off to the side, West bopped around to his latest album, The Life of Pablo, while thousands of attendees and onlookers online gawked and listened.
As a fashion designer, he has had his critics. They say his clothes are too simple, that they don't push the envelope. As New York's fashion critic Cathy Horyn wrote of Yeezy Season 2: "This second round of drab, broken-down basics proved he can't be taken seriously as a designer." However, even though the fashion powers that be don't see him as a legit contender — his impact on men's fashion is undeniable.
That's because, in many ways, he unknowingly sparked fashion's obsession with ungendered, fluid clothing. Before Hood by Air or Jaden Smith, West was dressing with no one gender in mind, proudly pairing pieces that are typically feminine with pieces that are typically masculine. And in an industry like hip-hop, that has often butted up against any sort of feminine ideal, that matters. In embracing feminine fashion, West was breaking the hyper-masculine norm. As rapper Lord Jamar said of West in 2014: "This feminine, emasculated style that's trying to infiltrate hip-hop, he's one of the pioneers of that." And Jamar, a noted homophobe, didn't mean that as a compliment. 
Despite the criticism thrown his way, West has also, throughout his career, been unafraid to take style chances, seeing if something like a fully bedazzled matching jacket could work with ripped jeans (it didn't).
Here are six instances that West changed men's fashion — and made it all the more interesting. 
From the very beginning, Kanye West was unafraid to embrace pink. 
The early 2000s were a confusing time, with people readily accepting questionable trends like crimped hair, bucket hats and flared jeans. 
But when Kanye West broke onto the scene, he came prepared to play with fashion. While the hip-hop and rap industry had readily embraced feminine elements like diamond-encrusted jewelry and an attention to designer duds, West was one of the first notable rappers out there to openly and proudly embrace pink, with the color even becoming one of his signatures. 
In his 2004 video for one of his first singles, "All Falls Down" from his album "The College Dropout," West wears a pale pink polo, stained with mustard, under a brown velvet jacket. And at galas, music award shows and even at a brunch honoring that year's Grammy nominees, West donned the palest shade of red nearly from head-to-toe. 
In doing so, he was showing men like him — in the industry or not — that pink was nothing to be afraid of. Really, it could look cool as hell. Since he popularized the color, it's permeated through the rap and hip-hop industries, later seen on men like Wiz Khalifa, Andre 3000 and Fabolous. 
Way before Jaden, West wore skirts. 
Long before Jaden Smith even though about wearing a skirt to prom, Kanye West slipped into one for a concert. 
In 2011, West paired a black T-shirt with a black leather skirt during his Watch the Throne tour with Jay-Z. One year later, he did it again at Madison Square Garden, pairing a oversized black hoodie and black leather skinny jeans with a black leather skirt designed by Givenchy. The fashion choice was a controversial one within the rap world, with Chris Brown writing on Instagram, "Can't get wit that swag! N*ggas gone be wearing heels next!" Reportedly, the criticism was so intense that West had begged Getty Images to take the pictures of him in the skirt down.
But by 2015, West only mused on the skirt in a positive light, telling Paper magazine: "There are warriors that have killed people in kilts in the past. Who gets to decide what's hard and what's not hard? When I saw this kilt, I liked it. I was into it. It looked fresh to me. I felt creative; I didn't feel limited by some perception." 
Little did he know that he would be one of the first men on the scene to embrace skirts in such a public way. Although men had donned dresses for photoshoots in the past, this was one of the first instances where a man wore a skirt in the public eye, not for a photo's sake, but for his image's sake. Since then, rapper Young Thug appeared on the cover of Dazed in a skirt, and Jaden Smith famously posed for Louis Vuitton and Vogue Korea wearing a skirt as well. 
And according to West, it was one of the first instances where he felt like he was really a part of the fashion industry. "When you sit down with [Givenchy designer] Riccardo Tisci at the Louvre, and he pitches the idea of you wearing a leather kilt, which could be considered by all of your gangbanging friends as some sort of a dress or skirt, at that point you are now a part of the fashion world," he continued. 
West made skinny jeans fashionable — or at least he thinks so. 
During an epic Twitter rant in January, Kanye West infamously typed out the words, "I made it so we could wear tight jeans." It came rather abruptly, amid a conversation that sparked from West thinking Wiz Khalifa had dissed him online (He hadn't). Although there was plenty to unpack from that conversation, the fashion world took particular notice of this one random sentiment, alluding to the idea that West is responsible for making skinny jeans popular in hip-hop fashion and across the world. 
When you look back at West's style archive from the waist down, the claim is all the more surprising. When West first broke onto the scene, he was a fan of rather ginormous pants worn with the occasional bucket hat (it was 2002, after all). So there was really no predicting that West would eventually go in the complete opposite direction, embracing skin-tight denim and leather. 
The change happened in the late-2000s, which is just a few years before it really caught on yet again in the mainstream. At the time, the men who more commonly wore skinny jeans were scene kids who lived in Hot Topic stores and the entirety of Fall Out Boy. But then, there was West, who was carving out his own style in order to be cool. Although there's no easy way to give West credit for making one style of pant overwhelmingly popular, it is interesting to see that it took Vogue all the way until 2015 to tackle the issue with an article titled, "Skinny Jeans vs. Wide-Leg Pants for Men?" 
Already at that point, West had answered that question for them. 
West has never shied away of a little sparkle. 
More than a decade after he made his debut wearing a pink polo, West is still trying to push the envelope in how a man can dress. At the 2016 Met Gala, an event where West and his wife showed up in matching outfits, he came in his typically ripped, acid wash jeans, but paired it with a denim jacket almost entirely encrusted with crystals. Although men have embraced "bling" for ages, this was West taking it to the next level. And by coming to the Met Gala dressed like this, West was one of the few men to take this red carpet as an opportunity to take yet another risk, whether people liked it or not.
Additionally, to that same event, West wore colored contacts, a look that was last embraced by Marilyn Manson in the 2000s. Though there's no counting that bejeweled menswear or colored contacts will be considered cool in a year, based on West's track record, it wouldn't be wise to count them out. 
West made caring about fashion cool again — for everyone. 
In 2013, West gave a headline-making interview with Jimmy Kimmel, that saw him ranting about everything from the genius of Walt Disney to his rap career. But one of the more critical points he made during one of his long-winded monologues is that he is one of the few black men in the fashion industry who is calling the shots. 
"Currently in fashion, there's no black guy at the end of the runway," he said. 
Although that's not entirely true, with black designers like Maxwell Osborne of Public School, Shayne Oliver of Hood By Air and Olivier Rousteing of Balmain standing at the end of their respective runways, West is, unlike many of his peers in the rap world or many other black men in the spotlight, extremely enthusiastic about the fashion industry, and enthusiastic about making clothing for men like himself. 
To him, fashion is not solely feminine, or just a woman's world at all. To him, fashion is a place for him to express himself, full stop. In being an active part of the industry and also a rapper, West joins men like P. Diddy and Jay-Z, who have helped bring black men into an industry that often dismisses them. 
Throughout his career, Kanye West has stood as an undoubtedly divisive, but unmistakably impactful figure in fashion. Although fashion critics may not be his biggest fans, he has ushered in a new era of men's fashion, one that is unafraid to embrace femininity and have as much fun with fashion as humanly possible. 
Read more: