'Pokémon Go' Is Luring Unsuspecting Victims Into Traps Set by Gunmen, According to Police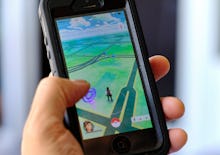 Pokémon Go isn't just the latest craze in augmented reality gaming — it's also the latest way for armed robbers to lure you out of your home and mug you.
Such was the case for a string of victims in St. Louis and St. Charles Counties in Missouri who, according to an official statement released on Facebook by the O'Fallon Police Department, were lured to specific geolocations set up by the suspects in the hopes of catching Pokémon, only to by robbed at gunpoint instead.
"This morning at approximately 2 a.m. we responded to the report of an armed robbery near the intersection of Highway K and Feise Road," the official statement reads. "We were able to locate four suspects occupying a black BMW a short time later and recover a handgun."
The press release also confirms that the suspects, responsible for multiple robberies over the course of several days, had specifically targeted their victims using Pokémon Go.
"Many of you have asked how the app was used to rob victims, the way we believe it was used is you can add a beacon to a PokéStop to lure more players," the statement reads. "Apparently they were using the app to locate people standing around in the middle of a parking lot or whatever other location they were in."
According to Sgt. Bill Stringer of the O'Fallon Police Department, Pokémon Go uses geocaching technology to establish real-world landmarks as PokéStops, or portals, where players can head to in order to "catch" and battle Pokémon characters. Once there, players can also use the in-game store to buy a type of homing device — known in the parlance of Pokémon Go as a "beacon" — to attract even more of the virtual monsters to their location.
The suspects, Stringer said, "were using that app to target unwitting people in a secluded place." 
Stringer also the same suspects had successfully commissioned 11 robberies over the course of two to three days, beginning Friday.
When asked about what players can do to safeguard themselves against similarly targeted robberies, Stringer urged to proceed with caution.
"Not play the app, for one thing," he said. "[Players] can't hide their location, I don't think. People certainly need to be made aware of the potential nefarious purposes for which it can be used. It was intended to be a benign thing that could be used to catch Pokémon, and now it's being used for these other nefarious purposed."
Stringer also said that parents of minors, for whom the game is seemingly targeted, should also be aware and wary of the potential risks of playing the game.
Read more: