Christian Siriano Designed Leslie Jones a Stunning Dress for Her 'Ghostbusters' Premiere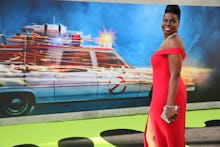 Last month, comedian Leslie Jones tweeted that many designers were unwilling to make her a dress for the premiere of Ghostbusters, in which she stars. Jones announced she was keeping receipts, and apparently that trend turned right around. But the honor of designing the 48-year-old actress' gown went to Christian Siriano, and oh how he came through. 
Jones appeared on Saturday's green carpet wearing an off-the-shoulder red gown with a fine, thigh-high slit up the side. She looked fantastic.
In a recent interview with Mic, Siriano — who has also dressed Oprah, Whoopi Goldberg, Danielle Brooks and Christina Hendricks — talked about urgently needed change within the fashion world. While stylists and random internet people commented that Jones was spoiled — that she should've given designers more notice so they could accommodate her non-sample-size body, that she should just go buy something herself — Siriano zeroed in on the double standard. 
"My point in saying 'change' is that we want to support these women of size," he said. "My whole thing is that I want my brand to be accessible to every woman. I think that it's way more exciting walking down the street and seeing 10 women wearing Christian Siriano. At the end of the day, I'm here to make beautiful things for everyone."
Siriano got the job done in just over a week, torpedoing the flimsy excuses offered by Hollywood's ateliers and proving that size is no obstacle to beauty.
Read more: