Dallas Police Chief Says Sniper Left Message Written in His Own Blood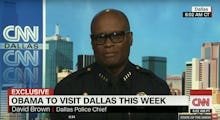 The Dallas police department has shared new details about Friday's standoff with the sniper responsible for shooting 14 people following a reportedly peaceful Black Lives Matter protest Thursday night. Dallas police chief David Brown told CNN Sunday that the gunman, identified as Micah Johnson, left behind a message, written in his own blood, at the scene where he was killed.
"He wrote some lettering in blood on the walls, which leads us to believe he was wounded on the way up the stairwell, on the second floor of the El Centro building and where we detonated the device to end the standoff there was more lettering written in his own blood," Brown told CNN's Jake Tapper.
The message was difficult to read, Brown said, but investigators could make out the initials R.B. They don't know what those letters mean, but authorities have found clues — supplies for making bombs and a journal at the shooter's home — that hint at a larger plot against the police. 
"What he was doing was righteous and he was going to target law enforcement, make us pay for what he sees as law enforcement's effort to punish people of color," Brown said. 
Brown authorized the use of a robot to detonate the bomb that killed Johnson, who — according to Brown — told the officers he had explosives of his own and was ready to kill more people. He also urged public support of the officers who did their jobs honorably.
"We're not perfect," he said. "There's cops that don't need to be cops. I have been the first to say, we need to separate employment with those types of cops — 1% or 2%. The 98% or 99% of cops come to work, do this job, come to work for 40 grand. It's not sustainable."
Read more: