Bernie Sanders Will Campaign With Hillary Clinton in New Hampshire, Bridging Party Divide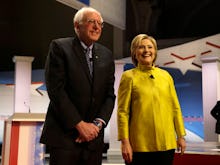 Bernie Sanders will join Hillary Clinton on the campaign trail on Tuesday, the Clinton campaign announced early Monday morning. The news comes after the erstwhile primary rivals moved closer together on issues like health care and higher education.
Sanders, who has yet to formally concede defeat in his bid for the Democratic presidential nomination but has indicated he will back Clinton in her likely face-off with presumptive Republican nominee Donald Trump, will stump with Clinton at Portsmouth High School in Portsmouth, New Hampshire.
The Vermont senator handily defeated Clinton in the Granite State's February primary, and the Clinton campaign's announcement last week that she would be campaigning in the state stoked speculation that Sanders would make his first post-primary appearance with her there.
Confirmation of Sanders' appearance follows Clinton's move to the left on key issues Sanders championed during his populist campaign.
Last week, Clinton rolled out a proposal for free public college for students from families earning less than $125,000 annually, with Sanders lauding Clinton's "very bold initiative." Over the weekend, Clinton also unveiled new health care proposals, including increased funding for community health centers and an option for Americans over the age of 55 to buy into Medicare.
On a call with reporters, Sanders praised those proposals as an "important step forward," adding that on big issues, "The Clinton campaign and I are coming closer and closer together."
The Clinton campaign is eager for Sanders' most fervent supporters to see things the same way. Many "Bernie or Bust" supporters remain unsold on the former secretary of state, and it's unclear whether they'll be moved by Sanders' endorsement.
Still, polls show that Clinton has largely consolidated Democratic support since clinching the nomination last month, and she now leads Trump by just under five points in the RealClearPolitics polling average.
Read more: