What You Need to Know About Michael Flynn, Donald Trump's Potential Running Mate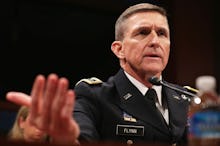 Donald Trump's "short list" for vice president has gotten pretty long over the presumptive Republican nominee's roller-coaster campaign.
At one point, word was the presidential hopeful was inclined to prefer a seasoned politico over a retired military official, given own his lack of familiarity with the inner workings of Washington.
But the latest Trump veepstakes chatter centers on retired Army Lt. General Michael Flynn. Like all potential VP picks, he's got his pros and cons.
Who is Michael Flynn?
Flynn, 57, most recently served in his highest-profile role as the head of the Defense Intelligence Agency under President Barack Obama.
Per the Military Times, "He was reportedly forced out of his role after sparring with Obama advisers on a range of policy decisions."
Flynn received his Army commission in 1981 after graduating from the University of Rhode Island. A native Ocean Stater, Flynn also holds a degree from the Naval War College, as well as an MBA.
Prior to leading the DIA, Flynn served in Iraq and Afghanistan.
Why Flynn makes sense
Trump has made national security — sometimes expressed as a desire to "knock the hell out of ISIS" — a cornerstone of his campaign for the presidency. Having a seasoned military official aboard bolster that image with the public.
The retired general, who has no qualms about going after presumptive Democratic nominee and former Secretary of State Hillary Clinton over her private email server scandal, is the co-author of the forthcoming book, The Field of Fight: How We Can Win the Global War Against Radical Islam and Its Allies.
Flynn is known in military and political circles as a particularly outspoken critic of the current administration's handling of foreign affairs, something that certainly dovetails with Trump's worldview.
As Foreign Policy put it in an August 2015 profile:
Flynn is hardly the first retired senior officer to criticize a sitting president's policies, but in the post-9/11 era, no one else has combined Flynn's rank and high-profile position at retirement, and the speed — once out of uniform — with which he began lambasting the policies of the administration he had just been serving.
Why Flynn could spell trouble
For starters, Flynn lacks the political-side Beltway background of other potential Trump running mates, such as former House Speaker Newt Gingrich, or the traditional state-level government credentials of Govs. Mike Pence of Indiana and Chris Christie of New Jersey.
Flynn openly acknowledges his history as a registered Democrat, although he says he no longer feels the party represents his opinions.
Asked during an appearance on ABC's This Week if he'd changed his party registration, Flynn demurred, saying "I vote for leaders" — although he said he didn't vote during his military service because he considered it his obligation to serve the administration in power.
Flynn's pro-choice views also set him at odds with the right flank of the GOP. He said on This Week that "I think women have to be able to choose... They are the ones that have to make the decision because they're the ones that are going to decide to bring up that child or not."
The retired general's fairly live-and-let-live views on same-sex unions may also clash with those of the conservative wing of the Republican party.
The bottom line
Trump's campaign has been anything but conventional, so it wouldn't be a total surprise if he chose a relative political novice over someone like Pence, Gingrich or Christie.
Other possible VP choices, such as Sens. Joni Ernst of Iowa and Bob Corker of Tennessee, have either indicated that they're not being vetted or have no interest in playing second fiddle to Trump.
Flynn's military background could be a plus at a time when voters are deeply concerned about terrorism and also about American troops staying stuck in a quagmire of Middle East conflicts.
While some of Flynn's views on domestic wedge issues could unsettle core Republican voters, such people are not terribly inclined to put their trust in Clinton & Co. (Though it is a toss-up: Abortion rights groups like Planned Parenthood have said don't see a potential Flynn pick as suggesting that Trump cares about reproductive freedoms at heart.)
Overall, Flynn's more moderate or laissez-faire attitudes on hot-button topics could even help appeal to the on-the-fence independents coveted by both Clinton and Trump, while his eagerness to go after Clinton is tasty red meat for the GOP faithful.
Trump is expected to announce a running mate before the Republican National Convention kicks off in Cleveland on July 18.
Read more: