Princess Awesome Is Removing Gender Stereotypes From Girls' Clothing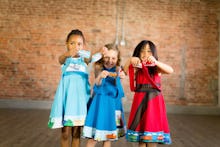 When Rebecca Melsky, a Washington, D.C. mother of two, would go shopping with her young daughter, she'd notice something. As she skimmed rack after rack in the girls' sections, she saw the same few tropes over and over again: pink dresses with princesses, blue dresses with butterflies and hearts and purple dresses with sweet-looking animals like kittens and puppies and bunnies. 
Although Melsky knew that there were plenty of young girls (including her own) who loved these kinds of dresses, she also thought girls around the world deserved more options. Even if they wanted to wear a dress with, say, a rocket ship or dinosaur on it, that option just didn't exist because of the highly gendered landscape of the kids' clothing market. 
"In the same way that we've seen toys only really have two genders, kids' clothes are the same," Melsky said in an interview. "That started in the '70s and '80s, when they were like, 'If we make two things in two different colors, then parents would have to buy two of them.' But it becomes a self-fulfilling process. It's like, well, girls don't buy dinosaur things. But those just aren't marketed towards them." 
So, rather than accept her current options, Melsky started to think. There was a gap in the girls' clothing market that she knew she could help fill — and that's how the idea for Princess Awesome, a clothing brand that specializes in dresses that subvert stereotypes about girlhood, first came to be. 
A progressive brand comes to life: It all started in the fall of 2013, when Melsky and her friend Eva St. Clair began to design simple, A-line dresses printed with rocket ships, trains, trucks, dinosaurs and even math equations, effectively breaking the mold of what dresses for girls in preschool and elementary school can look like. 
"For the prints, we're looking for a specific little part of a venn diagram where they're both fun and vibrant and nontraditional for girls, but it doesn't necessarily immediately belong in a boys section," Melsky said. "It's not [about] making dinosaurs pink." 
When it came to a name for the brand, St. Clair and Melsky didn't shy away from the princess theme, deciding instead to fully acknowledge how powerful embracing princesshood can be. 
"The way we see girls playing princess, it's not about not being powerful. In fact, it's quite the opposite," Melsky said. "It's a princess that's going to work. A girl in training to rule her kingdom. We are taking things that many girls love and putting that with all the things that aren't yet marketed towards them." 
More than a year later, after determining how much they would need to launch a full Princess Awesome line and online store, the two launched a Kickstarter. With a goal of $35,000, Melsky and St. Clair raised $215,691. 
Since then, Melsky says that Princess Awesome has sold thousands of dresses for infants and girls up to a size 12.  Its first order of 5,000 sold out almost immediately, and they've done seven orders since then. 
A fashion future free of gender norms: Much like toy sections, there's traditionally been a distinct separation between clothing marketed towards young boys and young girls based on the idea that girls and boys can't possibly be interested in the same animal or vehicle or shape. It's a separation so ingrained that when Target announced that its toys would not longer be labeled by gender, there was an uproar. 
Yet recently, there's been a shift away from gender-specific children's clothing. The fashion world is slowly creeping towards a gender-free future, with the kids' clothing world following suit. Already, there's Jessy & Jack, which offers gender-neutral designs for toddler and kids, and Free to Be Kids, which sells shirts for children with empowering statements and gender-neutral designs. 
Although Princess Awesome's clothes are targeted at girls, the brand is attempting to blur the lines and smash some of the stereotypes within girlhood, like the idea that girls are solely drawn to things that can be described as "cute," rather than "cool." 
"There is not a dress with a dinosaur in any mainstream clothing store," Melsky said. "If there's animals on clothing, usually they have eyelashes and lipstick." 
According to Melsky, the response from parents has shone a light on just how transformative it can be when a girl wears a dress that breaks the norm. 
"A couple of customers wrote in saying that when their daughters wear our dresses, people talk to them differently," Melsky said. "Like, if you're at the park and a kid comes up and you don't know them, it's very normal to look at the clothes, so boys get, 'Wow, that's Superman' and girls get, 'Wow, you look so pretty.' And parents are saying that when [their daughters] wear our dresses, they'll say, 'Oh, rockets! Do you want to be a rocket scientist?' It's a different conversation. And that's one of the things we were hoping." 
As far as what Melsky sees for the future of children's clothing, she thinks the most progress will be made by small businesses like her own. That's where the real innovation will take place. 
"I think small businesses are going to lead the way," Melsky said. "There's never going to be a time when there isn't a proliferation of pink flower dresses. What we're hoping for is that between small businesses and retailers, they get the message that those pink dresses will be interspersed with blue dresses and trucks." 
Read more: