'Mr. Robot' Season 2 Premiere Was "Leaked" Sunday Night — And Fans Are Freaking Out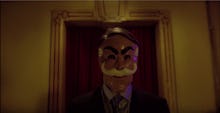 Mr. Robot is bucking conventions of network television in more ways than one. While the second season of the complex hacker drama isn't set to premiere until Wednesday, USA Network took the internet by storm after releasing the first episode of the new season Sunday night. The "hack" started during a Q&A with the creators of the show on Facebook Live — before it was interrupted by a masked figure. 
"You deserve something new, something unexpected, something you've never seen before," the masked stranger said. 
The full episode was then available for those watching the Facebook Live stream, and was subsequently released on the show's Twitter account, BuzzFeed's Snapchat account and USA's website in full. Sadly, for fans who weren't quick to the draw, it's already been deleted. 
However, fans who apparently caught a glimpse of the premiere were pleasantly surprised by the sneak peek. Conversely, for those who missed out, ample frustration at missing out on fsociety's brief, but effective, online hack. 
Mr. Robot will return to USA Wednesday night at 10 p.m. Eastern for a two-hour season premiere. Watch the season two trailer below. 
Read more: