Who Is the Black Woman in the Iconic Image of the Alton Sterling Protests in Baton Rouge?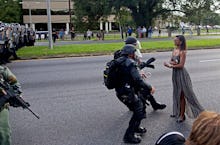 A New Orleans-based photographer Jonathan Bachman snapped what has become the most talked-about photo from the protests against police brutality that rocked Baton Rouge, Louisiana, this weekend.
Published by Reuters and circulated widely across social media, the image depicts a black woman — who Twitter users and outlets have identified as either Leshia Evans or Ieshia L. Evans, mother to a five-year-old son (Mic was unable to independently confirm either name) — standing in defiance before a line of riot gear-clad police officers, two of whom appear to be rushing toward her.
Twitter users hailed the woman as a hero, and the photo as a an iconic image of the movement for black lives.
"I could tell that she wasn't going to move, and it seemed like she was making her stand," Bachman, the photographer, later told the Atlantic. "It wasn't very violent. She didn't say anything. She didn't resist, and the police didn't drag her off."
It's hard to ignore the photo's potent symbolism.
Black women have been central to the movement for black lives since its inception, from the founders of the national Black Lives Matter network — Alicia Garza, Opal Tometi and Patrisse Khan-Cullors — to the mothers of slain black children who have become its tragic face, like Lezley McSpadden, Samaria Rice, Sybrina Fulton and many others.
This particular woman was photographed during protests against the death of Alton Sterling.
Sterling, 37, was selling CDs outside a Baton Rouge convenience store July 5 when police officers approached him, tackled him to the ground and shot him to death while he was pinned there. 
He was the 114th black man known to have been shot and killed by police in the U.S. in 2016. Over 100 people were arrested during protests in Baton Rouge over the weekend, along with at least 100 more at other demonstrations across the country.
Read more: