Jay Z's "Songs for Survival" Playlist Compiling Protest Hymns, Shows Little Has Changed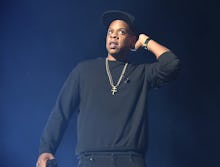 At its best, protest songs captures the heart, soul and struggle of their creator's generation. The somber, hymn-like nature of Sam Cooke's "A Change Is Gonna Come" reflects the grassroots spirit of the civil rights movement as much as Kendrick Lamar's strident "Alright" captures the themes of self-care and self-love present in today's Black Lives Matter movement.
The struggle and spirit are the same; the only thing that seems to change are the aesthetics, as Jay Z's latest musical offering, his "Songs for Survival" playlist, reveals. Streaming exclusively on Tidal, the nearly two-hour playlist compiles iconic protest anthems from some of the most famous black artists, both past and present, to ever raise their voices for justice. It spans decade and country, including hits from legends such as Nigerian artist Fela Kuti and Jamaica's Bob Marley alongside Nina Simone, Marvin Gaye and Stevie Wonder, all the way to Kendrick, Common and Beyoncé.
The consistency in message and mood from song to song is more than telling — it's haunting.
"I'm saddened and disappointed in THIS America — we should be further along. WE ARE NOT," Jay Z wrote in a personal message on his streaming service when "Spiritual" debuted Friday. According to his note, he had a version of the song nearly set around the time Michael Brown died in 2014 but declined to release it, sagely asserting to TDE's Punch that "this issue will always be relevant." His playlist and the recent deaths back up his assertion. 
These two musical offerings mark Jay Z's solo reentrance into music after three years of silence post-Magna Carta Holy Grail. It appears both he and his wife, Beyoncé, are getting more vocal than ever on issues of police brutality, Black Lives Matter and racial injustice that can end in tragedies. She released her own statement Thursday, literally breaking the internet (or at least a webpage) in the process.
Jay Z's playlist helps put the individual tragedies the nation suffered recently into proper context. Alton Sterling and Philando Castile may be the 114th and 115th black men killed by police in the United States in 2016, but they're two of countless people who have been mourned with song before. All the voices from the past prove those who march for justice today do not do so alone. Listen to the full "Songs for Survival" here.
Read more: