Kristin Cavallari Is Furious at Trolls Who Accused Her of Starving Her Children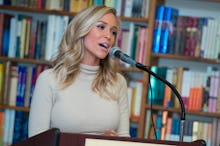 The hills are alive with the sound of a clapback from Kristin Cavallari!
Last week, Cavallari — mother of three, confirmed anti-vaxxer and fierce advocate of having married sex as often as possible — posted a photograph to Instagram of her husband and two sons frolicking on a beach. 
Some of her followers thought her kids were too skinny. Others thought they were healthy and fine. The picture's 800-plus comment section is basically just a hot mess of random strangers arguing about Kristin Cavallari's children's weight.
"I understand you live a very strict dietary lifestyle but these children are very obviously nutritionally deficient," one follower wrote. 
"My kids eat everything in sight and I can see every bone in my son's torso area," countered another. "Gimme a break."
People reported Cavallari herself eventually jumped in with a comment of her own clapping back at Instagram users who body shamed her sons. 
"Yep, I starve my children," she wrote. "Just blocked the most people I've ever blocked in my entire life. Happy 4th hahaha."
If Cavallari's concerned followers had done a little research, they would know she definitely feeds her children! She has spoken openly about her approach to food and nutrition in the past, writing in her book, Balancing in Heels, that she is anti-GMO and "a psycho about reading every single ingredient label."
So there you have it. Leave Kristin (and her babies) alone. 
Read more: