What You Need to Know About Julián Castro, Hillary Clinton's Potential Running Mate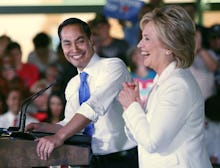 Julián Castro's name was one of the earliest to surface as a potential vice presidential running mate for Hillary Clinton.
He has been campaigning for Clinton since the early days of the primary, has been mentored by former President Bill Clinton and has been brushing up on his Spanish-speaking skills in preparation for a possible spot on the Democratic ticket, according to Politico.
Castro's been evasive in recent days about whether he's being vetted for the role, including in an interview with Univision's Jorge Ramos.
But he's long been mentioned as a potential second-in-command for Clinton.
Here's what to know about Castro.
Who is Julián Castro?
Castro is currently a member of President Barack Obama's administration, serving as the secretary of Housing and Urban Development since July 2014.
Prior to his job in the executive branch, Castro was the mayor of San Antonio, Texas, for five years. He was elected mayor after serving on the San Antonio City Council, on which he was the youngest member ever elected to the body in 2001 when he was just 26.
Castro gained national prominence in 2012, when he became the first Latino person to give a keynote address at the Democratic National Convention.
His twin, Joaquín Castro, is a member of Congress, representing San Antonio on Capitol Hill.
Why would Clinton pick Castro?
Whomever Clinton chooses as her running mate is likely being set up to run for president when, assuming she wins in November, Clinton steps down — either in 2020 or 2024.
And unlike Clinton's other potential VP picks, many of whom are over 60, Castro is young, Latino and more reflective of where the Democratic Party is headed.
Choosing Castro as her running mate could further help Democrats solidify Latinos — the fastest growing minority group in the U.S. — as a Democratic constituency for a generation. That could knee-cap Republicans from winning a presidential election for years to come.
Similarly, unlike Clinton's other potential VP picks, Castro is not in the Senate, meaning choosing him as her running mate would not risk Democrats losing a seat as the party seeks to win back the majority in November.
What are Castro's downsides?
While the fresh-faced Castro would be a good antidote to voter apathy for Clinton — who's been on the political scene for decades — he's also largely untested on a national stage.
In such a hotly contested cycle, and facing presumptive Republican nominee Donald Trump, it's unclear whether Democrats would risk putting someone who's yet to face the fire of the national media on the ticket.
How likely is Clinton to pick Castro?
Castro was among the earliest names to surface as a potential Clinton VP pick.
He's been trotted out on the cable circuit, possibly as training for the national spotlight that would befall him should Clinton choose him as her running-mate.
But his stock has fallen since it became clear that Trump would lead the GOP ticket — the prospective of which already has galvanized Latino voters to vote for Democrats in 2016.
Read More: