The Dangerous Double Standard for People of Color Playing 'Pokémon Go'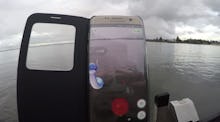 This past week, two conversations dominated the internet. One was the Black Lives Matter movement swelling throughout the nation after two black men, Alton Sterling and Philando Castile, were killed by police officers. And the other was about a smartphone game — Pokémon Go.
Below is a Google Trends graph from the last seven days. The blue is the surge in searches for "Pokémon" while the red — meager in comparison — is the search for "Black Lives Matter" — showing one way in which the smartphone game dishearteningly eclipsed the social justice movement. 
As writer and poet Omari Akil pointed out in a Medium post, the smartphone game — which requires you to roam around IRL — and the Black Lives Matter movement aren't so mutually exclusive. 
"When my brain started combining the complexity of being black in America with the real world proposal of wandering and exploration that is designed into the gameplay of Pokémon Go, there was only one conclusion," Akil wrote. "I might die if I keep playing."
The Pokémon Go gameplay leans heavily on players walking around outside — something that Akil notes has dangerously different repercussions for people of color. 
"There is a statistically disproportionate chance that someone could call the police to investigate me for walking around in circles in the complex," he wrote. 
And it's already happened. Twitter user @MizCaramelVixen tweeted that she was pulled over by cops while playing Pokémon Go with her child, saying she was "harassed" and blamed her white neighborhood. She added that she had since only played in the house and "will never play after 4-6pm again." 
There is also a Tumblr post that explains how to walk around and play Pokémon as a black person, including tips like dressing cute, bringing a non-black friend with you, avoiding white neighborhoods, walking a dog and even going into stores and buying something. 
"Basically you gotta put white people at ease by seeming as childish and/or bookish as possible," the post reads.
The user notes that they shared these "tips" to highlight the double standard black people face — but that there's "really nothing surefire you can do to avoid being stopped." Amid the excited screenshots of captured Pokémon, a wild, resounding fear from people of color emerged. 
Read more: