Starbucks' New Sangria Tea Does Most of the Work For You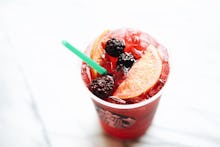 The newest addition to Starbucks' ever-expanding menu is less influenced by a box of crayons and draws more from a popular wine-based adult beverage. The coffee shop will start serving sangria — Teavana Shaken Iced Berry Sangria Herbal Tea, to be specific — starting Tuesday, a Starbucks spokesperson said in an email. 
What's inside: The sangria is made with Teavana Iced Passion Tango Tea, which melds hibiscus, lemongrass and apple flavors, that is mixed with a sangria syrup consisting of "a blend of peach, elderberry, blood orange and raspberry flavors," according to the spokesperson. 
Like any good riff on a sangria, the tea also contains fresh fruit, including blackberries and orange slices, as well as apple juice. Like any bad sangria, it doesn't contain any booze — wine or otherwise.
The remedy: This new menu addition is just begging to be spiked. Think of the tea as the sangria version of a margarita mix. While there's no need to add wine to the drink, since the syrup is supposed to mimic those flavors, the sangria base could really benefit from a shot (or two) of hard alcohol. Brandy, cognac and orange liqueur are commonly found in standard sangria recipes, so add one or combine a few.
Whether intended by the coffee chain or not, the ease with which one can add booze directly to the Starbucks cup makes the drink almost better than a flask . Bonus: If you're  throwing a last-minute get-together and have no time to whip up a real cocktail, you can simply purchase a couple of Venti sizes of the drink, pour them into a pitcher and mix with the booze of your choosing. Quickly hide the evidence (the mermaid-printed cups and green straws) and you'll be considered a serious sangria savant. 
Read more: