'Pokémon Go': How to Find and Catch Legendaries Instead of All Those F*cking Zubats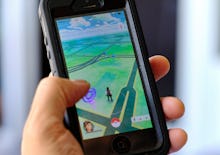 If everyone around you is staring at their phones lately, they may not just be trying to avoid eye contact — they're probably playing Pokémon Go, the augmented reality iteration of the Pokémon franchise that allows players to find and catch Pokémon in the physical space around them.
Now that the craze has arrived, the race is on to find and catch the most valuable Pokémon in the Pokédex — especially the Legendaries, Articuno, Zapdos, Moltres and Mewtwo (Mew is also a Legendary, but not one of the first 150 ). The Legendary Birds also appear as the mascots for Pokémon Go teams, which seems to indicate that they will make an appearance at some point in the course of the game.
But it seems unlikely that the Legendaries will just be hanging around near your house waiting to be caught. Some have speculated that Legendaries will only be available when players come together for meet-ups that will pit teams against each other in large scale Poké-battles.
"It's likely that Niantic has plans to incorporate the Legendary Pokémon into these large events, to encourage players to work together," ComicBook.com reported on Friday. "We saw a hint of this in Nintendo's first trailer for the game, when hundreds of players gathered in Times Square to fight a Mewtwo. After delivering a final blow seconds before a countdown was set to expire, Mewtwo appeared in all of the players' games, a reward similar to the events seen in regular Pokémon games."
In a 2015 interview about Pokémon Go, Niantic CEO John Hanke said that live events and trading would likely be a big part of the game. "We'll have events for Pokémon as well," Hanke told Venture Beat. 
Those are competitive, but they can also be places to trade stuff with other players. Pokémon trading is going to be huge. You can't get all of them by yourself. If you want all of them you'll have to trade with other players. Or you have to be someone who takes time off work and travels the world for a year. There may be people who do that.
So it may be the case that finding a Legendary Pokémon will require a lot of literal legwork, like traveling to meet-ups or crossing the ocean. Or you can just wait for the moment when someone inevitably comes up with a game hack.
Read more: