Here's What Happens When 'Pokémon Go' Turns Your House Into a Gym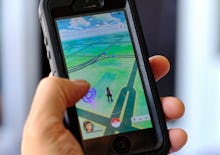 Massachusetts resident Boon Sheridan and his wife live in a building that was originally a 19th century church, BuzzFeed reported. It — to his surprise — has become a gym in the virtual world of Pokémon Go, according to his Twitter.  
Sheridan tweeted he's noticing flocks of people — both on foot and in their cars — lingering by his front yard and the park across the street. 
"I just realized all the people walking or driving up, lingering, then moving on could easily make this place look like a dealer's house," Sheridan said on Twitter.
One of those people turned out to be the owner of the gym, which sort of makes him a virtual co-owner of Sheridan's house.
Apparently, places like parks and churches are likely to become gyms in the game.
Sheridan looked into getting his home removed from the game but found out he can only report a gym location if there's "immediate physical danger," according to a screenshot he tweeted.
The official Pokémon Go Trainer Guidelines urge players to "adhere to the rules of the human world" — "a slippery phrase if I've ever heard one," Sheridan wrote on Twitter.
"Remember to be alert at all time[s] and stay aware of your surroundings," the guidelines say. "Please do not trespass, or in any manner gain or attempt to gain access to any property or location where you do not have the right or permission to be."
In a tweet, Sheridan suggested the game's developer, Niantic, could maybe set up "'do not disturb' hours" — since, you know, he and his wife probably need to sleep at night.
Since Sheridan's home's fate has been somewhat sealed in the Pokémon Go world, he's decided to ponder the most pressing question of all: 
"Does having a gym layered on my house enhance or detract from my home's value?" 
Read more: