#ConservativeBecause Quickly Backfired for Conservatives on Twitter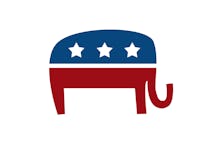 A recent attempt by some conservatives on Twitter to get the hashtag #ConservativeBecause trending was a rousing success — though almost certainly not in the way its creators originally intended.
According to Red Alert Politics, the hashtag began when Future Female Leaders — a conservative group that exhorts young women to "vote with your lady smarts, not your lady parts" — issued a call for young, conservative women to share their stories with others. The intent was apparently to show that conservatives are not just a collection of disgruntled white men.
Initially, the hashtag appeared to be succeeding in its stated mission.
But things quickly took a turn, and by late Sunday night, it was unclear whether #ConservativeBecause was trending thanks to its initial, earnest posts or the counteroffensive it prompted from users offering a less-than-charitable take on right-wing politics. Numerous posts mocked presumptive Republican nominee for president Donald Trump, and conservatism in general, for perceived hypocrisy, bigotry and ignorance.
By and large, Twitter is broadly liberal, so it's not particularly surprising the #ConservativeBecause train derailed so quickly out of the station like so many hashtags before it (take for example the #AskJPM hashtag in 2013, which quickly became diluted with insults lobbed at the banking giant). But it is yet another reminder hashtags are basically designed to be hijacked.
Read more: