Ariana Grande and Victoria Monét Share "Better Days" in Support of Black Lives Matter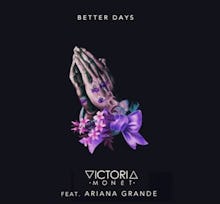 Georgia-born R&B singer Victoria Monét teamed up with Ariana Grande to pen a soothing response to the recent violence and tragedies plaguing the United States and abroad titled "Better Days." The artists make a plea for light and love over the honeyed R&B jam, decrying the "hatred, racism and injustice" that led to last week's tragedies in their accompanying message posted to SoundCloud.
"During this challenging time, we have to remember that the only way we will progress is if the overruling force is #Love," Grande wrote in sharing the song on Instagram.
"Better Days" features a slow tempo, smooth vocals and optimistic, transformative lyrics: 
Baby, there's a war right outside our window/ Don't you hear people fighting for their lives? 
I can hear sirens right outside our window/ And I can hear the children cry while their mothers cry/ I'm praying for the people right outside our window/ Hoping they find peace at night, just like you and me.
The new single joins a wave of new music and collaborations, from Jennifer Lopez, Lin-Manuel Miranda, Miguel and Jay Z, offering condolences, prayers and support in the aftermath of continued violence.
Listen to "Better Days" in full below. 
Read more: