Chrissy Teigen's 'Cravings' Is Perfect for Quelling Your Hunger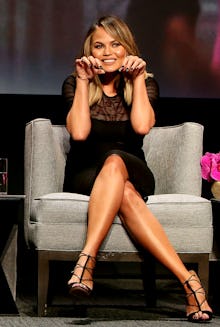 It's easy to roll your eyes at a celebrity cookbook — what could they really know about cooking? Most lead lives where their meals are made by private chefs and the rest are served to them at trendy restaurants. So when I first heard that Chrissy Teigen, who makes her living as a model, was publishing a cookbook, I was whatever 100 levels past skeptical is. Cravings, however, has turned out to be a book I find myself flipping through frequently.
While Teigen has a host of accomplishments under her belt — appearing on the cover of Sports Illustrated, serving as a hype woman on Lip Sync Battle with LL Cool J, landing husband John Legend — she is perhaps best known for her incredible Twitter presence, in which she shuts down haters and offers up relatable struggles, 140 hilarious characters at a time. That is the strength of this book: It's written as if a series of Teigen's tweets were strung together and polished by an editor. It lacks heavy culinary jargon and instead makes references to The Real Housewives, and it isn't timid when it comes to using exclamation points.
Like all the best TV shows and books, Cravings offers a peek into the life of not only Teigen but also her life with Legend. There's plenty of personal anecdotes that have that Keeping Up With the Kardashians-like effect of making you feel like you are actual friends with Teigen, and that she is just sharing a recipe that she made at that dinner party the other night. The photos feature Teigen cuddled up with Legend in bed, on the couch or cooking with her mother and dog in the kitchen, making riffs on her mother's Thai recipes. While they are professional photos, they feel like they could have been lifted from Facebook.
Unlike other cookbooks created by popular bloggers and chefs, Teigen's doesn't even bother trying to pretend to be perfect. Many shots feature imperfect food or goofy facial expressions that would typically be left on the cutting room floor. The recipes are not rigid or fancy. None of them call for ingredients that can't be sourced from your local grocery store (or say, AmazonFresh) and they fall under section titles like "Sh*t on Toast," "Soupmaster" and "Things That Intimidate People but Shouldn't."
Instead, the food is just fun. It includes everything from Legend's riff on an Egg McMuffin from McDonald's to a cheesy tuna casserole recipe that is topped with potato chips, of all things. The recipes are perfect for young people that want to make something interesting for a dinner party, but are averse to the cutesy recipes that tend to clog up Pinterest. No one is ever going to regret serving Pineapple-Grilled Short Ribs or a Dump and Done Ramen Salad to guests.
And that is exactly what keeps me going back. As someone in my mid-20s, I have a couple of go-to recipes that are usually well received when bringing food to a friend's place or having people over. While I will pick up a new recipe or two every few months, no cookbook that I have come across in the past couple of years has had such a high concentration of crowd pleasing, but not boring, recipes that are actually fun and not overly difficult to make.
The most glaring flaw — besides the surprisingly high number of soup recipes and a serious lack of dessert — is that there are only a handful of healthier recipes. If this book is supposed to be a glimpse into what Teigen really makes, it's hard to believe that she manages to remain so healthy on a diet that consists mainly of Hawaiian Pizza Jalapeño Poppers and Yellow Cake Baked Oatmeal. But if that really is the secret to landing a Sports Illustrated cover, sign me up, I'm happy to oblige.