The 'Ghostbusters' Reviews Are Actually Positive — But the Internet Doesn't Understand How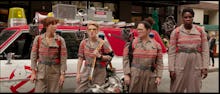 If you thought the sexist backlash for the all-female Ghostbusters reboot reached a fever pitch when it received the most dislikes of any movie trailer on YouTube, it pales in comparison to the internet hatred for the film's early reviews. Why? They're actually pretty positive. 
Currently sitting at a 77% "fresh" rating on Rotten Tomatoes, the consensus from critics is that the reboot isn't perfect, but the excellent performances from its female cast stand out as some of the highlights. 
"As enjoyable as this movie is, sometimes it feels like it's holding back; no one's id runs wild," Jesse Hassenger wrote in a review for the A.V. Club. "But the limitations of Ghostbusters make Wiig, McCarthy, McKinnon and Jones even more valuable. They make a big franchise-starter warmer and more endearing than it needs to be." 
Yet frankly, given that the online backlash is centered around the fact that women — women! — are at the helm of the comedy, many users aren't willing to concede that the film could be a success. Rather, the reviews are "rigged," and critics are being "paid off" to write positive things about it. 
Though thankfully, some on social media are taking the criticism in stride. After all — among some of the major systemic societal issues facing the United States — some people seem more concerned that a movie is getting good reviews. Now that's comedy. 
Read more: