8th Grader Royce Mann Understands White Male Privilege More Than Most Adults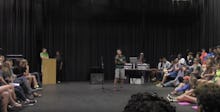 This may seem simple, but white male privilege has been a difficult concept for many adults to understand. 
In fact, some of them are denying it exists altogether. But an eighth grader from Atlanta, Georgia, is calling this privilege out in a spoken word poem.
In "White Boy Privilege," Royce Mann eloquently addressed the racial, gender and socioeconomic disparities that exist between white boys like him and those in marginalized communities. 
He perfectly nailed why white boys and white men should acknowledge that they benefit from privilege.
The 14-year-old also says that he can act foolishly and use foul language without worrying that his actions would be attributed to all white men.
Well said, Royce.
You can watch the whole performance here:
Read More: