Elon Musk's "Top Secret" Tesla Plan Is Reportedly in the Works — What That Could Mean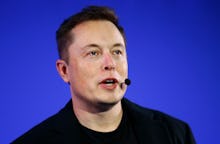 Elon Musk, Tesla founder and reality truther, teased the second part to his "Top Secret Tesla Master Plan" on Sunday, tweeting that he hopes to publish it later this week. 
It's probably not a plan to break free from our Matrix overlords by harnessing the power of a million suns from solar panels — but Musk did hint that it could have something to do with Tesla's recent acquisition of SolarCity, a company that installs such panels. 
It seems Musk has diverted his attention from Mars and is now focusing on the Sun. Jigar Shah pointed to his LinkedIn article on the Tesla Motors and SolarCity merger as what the Masterplan might be all about, to which Musk tweeted, "Something like that." 
This could mean that the second part to Musk's Top Secret Tesla Master Plan is what Shah describes as a "climate change package" — an economical bundle of rooftop panels, a home-based battery and an electric vehicle. 
The Top Secret Master Plan is also a great way for Musk to divert our attention from the terrible, horrible, no good, very bad press Tesla has been getting recently. The company came under fire for the first fatal accident involving its Autopilot feature, as well as another non-fatal accident using that same feature. 
Maybe the plan is to improve upon Autopilot for truly autonomous roads — Musk did promise us cars that would be able to drive themselves from New York to Los Angeles by 2018. 
Read more: