What You Need To Know About Sherrod Brown, Hillary Clinton's Potential Running Mate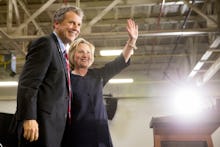 As Donald Trump trumpeted his plan to win Rust Belt states by turning out white working-class voters in droves, a new name emerged on Hillary Clinton's vice presidential short list to try and thwart that plan: Ohio Sen. Sherrod Brown.
With the ability to reach out to voters in Ohio, Brown is being vetted by the Clinton campaign as her potential second in command.
Here's what to know about one of Clinton's potential running mates.
Who is Sherrod Brown?
Brown has been an elected official in Ohio in some capacity since 1975, making him a well-known commodity in the Buckeye State.
He's been serving in the Senate since 2006, when he was swept into office in a Democratic wave. He won a competitive re-election battle for the seat in 2012.
Before that, Brown served seven terms in the House, where he fought against trade deals such as the Central American Free Trade Agreement, which have once again become hot-button issues in the 2016 election.
Brown has also served as Ohio's secretary of state, as well as a member of the state House, giving him experience at multiple levels of government.
Why would Clinton pick Brown?
Brown could appeal directly to the white working class vin Ohio, voters Clinton needs to win over in the critical swing state. If Clinton wins in Ohio, it all but ends any chance Trump had at the White House.
As a progressive, Brown could also help court supporters of Sen. Bernie Sanders who believe Clinton is not progressive enough.
And he's been a loyal supporter. He endorsed Clinton over Sen. Bernie Sanders last October, the kind of move the Clintons have rewarded in the past.
What are Brown's downsides?
If Clinton chose Brown, and the duo wins in November, Brown would have to vacate his Ohio Senate seat.
That would leave Republican Ohio Gov. John Kasich with the task of picking Brown's successor, all but assuring a Republican would hold the seat.
With the Democrats' path to the Senate majority so slim, Clinton might not be willing to jeopardize the seat by picking Brown.
Also, if Clinton is looking to win over Republicans and GOP-leaning independents disillusioned with Donald Trump, Brown's liberal background could be a hindrance to that effort.
How likely is Clinton to pick Brown?
Clinton and Brown have good chemistry on the trail. The two have campaigned together a handful of times already, and are likely to continue to campaign together through the fall.
But the loss of Brown's Senate seat may be likely enough for Clinton to pass on him as her No. 2.
Read More: