My Morning Jacket's New Song "Magic Bullet" Is a Call for Peace, Equality and Justice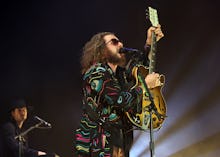 Artists across all genres have stepped forward in the face of last week's overwhelming violence to offer support the best way they know how: with healing music. Sunday, indie band My Morning Jacket joined the ranks, releasing "Magic Bullet," a new single aimed at uniting listeners around the pursuit of peace. 
"Violence is never the answer. Only love," the group wrote on the song's SoundCloud 
"It does not matter your race/creed/sexual orientation, we are all filled with the same beautiful blood," My Morning Jacket continued. "If we all speak out — for peace. For equality. For justice. For an end to the violence... then perhaps we can together change the world for the better — create a world of true peace, love, and acceptance where our differences are celebrated because we realize they are in fact all just shades of the same wondrous human rainbow."
My Morning Jacket's track joins hosts of other tributes tracks to the victims of police and gun violence. Miguel used SoundCloud Friday to post his surprise single "How Many," an emotional pro-Black Lives Matter anthem begging for an end to violence. Ariana Grande and Victoria Monét decried the "hatred, racism and injustice" that continue to devalue and end lives in America.
Listen to My Morning Jacket's song in full below.
Read more: