Guy Rigs Drone to Play 'Pokémon Go,' Makes Us All Look Like Noobs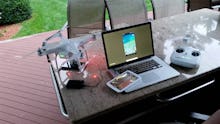 While everyone else is playing Pokémon Go by walking around on their feet — like suckers —Tumblr-user Perchbird found the ultimate real-life cheat code: He rigged his phone to a drone.
This isn't rocket science: Perchbird, who calls himself Liam, simply duct-taped his phone to his Phantom 3 drone, then used AirDroid to control his phone through his laptop. So far, the only problems are keeping up with the data-hungry Pokémon Go app — and the precarious nature of his setup.
"If I was on data, it would work much better," Liam told Gizmodo. "The drone can go around 1,500 feet away from me and that is the estimated range of using Pokémon Go on a phone duct-taped to a drone."
Of course, eliminating the movement part of Pokémon Go just makes the game regular Pokémon, but with a shakier operating system. However, for a player like Liam — who lives in the suburbs and nowhere near a Pokémon-rich park area — flying to the action might be the only recourse. So instead of berating his laziness, we should all commend him for his ingenuity... and mourn his data plan.
Read more: