Pikachu Porn Is a Thing, and It's Bigger Than Ever Thanks to 'Pokémon Go'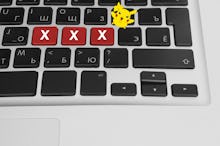 The recent success of Pokémon Go — a new augmented reality app that allows users to hunt virtual Pokémon species as if they exist in the actual world — has people going crazy for the cute little creatures.
They want to capture them. They want to train them. They want to trade them. And apparently, they also want to fuck them. 
As Pokémon Go has exploded in popularity in recent days, so too has Pokémon-themed porn.
Porn website xHamster.com — which is obviously very NSFW! — reports that its usual top search terms have been completely usurped by searches for Poképorn over the past five days.
"Our top searches which usually consist of 'MILF,' 'Teen' and 'Interracial' have been replaced with 'Pokémon,' 'Pikachu,' 'Hentai' and 'Anime,'" xHamster.com spokesman Alex Hawkins said via email. "Anime has become our No. 1 accessed genre over the weekend with the booming popularity of Pokémon Go...  For one niche category to take over a site as large as our is unbelievable."
The most popular video of the weekend boom is called "Pokémon Cock Hunters Soul Eater Stretches Ass," which sounds like some truly scintillating content. 
Per Rule 34, the intersection of Pokémon and porn is not as new as one might think. In 2015, YouPorn reported it had seen an influx of Wii users logging in and searching for Pokémon-themed footage. A Pokémon porn parody called Strokémon was also released that year. Perhaps the interest was generated by Wii's Pokémon Battle games, or 2013's Pokémon X for Nintendo 3DS.
Meanwhile, hentai — aka Japanese anime/cartoon porn — has been getting nerds off for decades. Millennials in particular have taken to the genre. According to PornHub data shared with Mic last year, the 18 to 34 crowd is 190% more likely to search for hentai than those over 35.
"The erotic illusions possible are freed from all the normal constraints of reality," psychologist Leon F. Seltzer told Cosmopolitan of cartoon porn's appeal. "[It] can heighten the illusion that our libido has now landed in the most idyllic place possible." 
Now that Pokémon Go has led more people to come searching for these niche genres of smut, xHamster.com is taking drastic measures to keep their users happy.
"Our content licensing team is currently in emergency negotiations to acquire as much anime content as possible in the next week to keep up with the increasing demand," Hawkins said.
Ah, the power of Pikachu. 
Read more: