Police Shooting of Pedro Villanueva in California Results in Latino-led Protests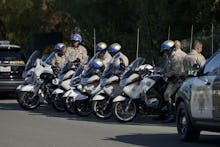 But a lesser-known story is roiling Southern California's Latino communities — and the rest of the country needs to pay attention.
Dozens of demonstrators gathered Sunday outside the California Highway Patrol's headquarters in Santa Ana, California, to protest the death of Pedro Villanueva, a 19-year-old Latino teenager shot and killed by CHP officers July 3.
"We're here to support Black Lives Matter and also to support Hispanic lives," Naui Huitzilopochtli, an indigenous rights activist and organizer of the rally, told the Orange County Register. 
The peaceful protest amassed between 60 and 100 people, holding signs that read, "Strong communities make police obsolete," and chanting, "Killer cops, get off my block," reports said.
Villanueva's death was yet another police-involved tragedy.
According to the Los Angeles Times, the Highway Patrol officers who killed him were part of an illegal street racing sting that was monitoring a motorists' gathering near an airport in Fullerton, 26 miles southeast of Los Angeles. 
They were driving an unmarked car when they confronted the unarmed teenager. The Times reports Villanueva sped off in his pickup truck when the officers tried to break up the gathering, and was shot while driving toward the officers after they had cornered him in a cul-de-sac.
An 18-year-old passenger in the truck was also injured during the shooting, but is expected to survive.
Like black Americans, Latinos face disproportionate rates of police violence.
According to the Counted, a database from the Guardian that tracks officer-involved deaths across the United states, Latinos were killed by police at a rate of 3.51 per 100 million in 2015, compared to 2.93 for white Americans.
In this context, Villanueva's case is yet another stark reminder of the state violence faced by people of color across the U.S.
"This is another person of color, another unarmed man shot," Huitzilopochtli said. "We're here to stand up with people of color."
Authorities are investigating the shooting.
Read more: