Kim Kardashian's 'Forbes' Cover Shows a Side of Her the Media Always Neglects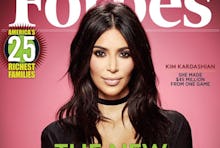 With arms crossed and a knowing smile on her face, Kim Kardashian West graces the latest issue of Forbes, standing assuredly behind the coverline "The New Mobile Moguls."
"Such a tremendous honor to be on the cover @forbes!" Kardashian West said, tweeting out the cover. "I never dreamed this would happen & know my Dad would be proud."
Known for her reality TV show, strong social media game and even stronger selfie game, Kardashian West's cover story touches on a set of accomplishments not typically attributed to the mother of two and her accomplishments. As she noted in a later tweet, "#NotBadForAGirlWithNoTalent"slamming a favorite argument for Kardashian detractors.
But her Forbes cover story reminds the world that she's seriously capitalized on her fame thanks to her 2014 app, Kim Kardashian: Hollywood, that's raked in $45 million and accounts for 40% of the money she earned this year. 
For $1.99, users can download Kardashian West's game and take a walk through Hollywood in her shoes by pretending to be a celebrity — a tale Kardashian West knew firsthand. Kardashian West had the power to approve all editorial decisions, storylines and clothing and beauty options. The game profits even more by offering in-app purchases.  
"I became really intrigued with the tech world," Kardashian West told the magazine. "I started spending a lot of time in San Francisco. I realized this is really going to be the next cycle of my career and this is what I want to focus on."
In the first six months, Kardashian West's game hit it out of the park and earned $74.3 million. And it doesn't end there. "This is fun for me," she said. "Now I'm coming up with Kimojis and the app and all these other ideas. I don't see myself stopping."
Read more: