The 2016 USA Olympic Gymnastics Team Includes 3 Women of Color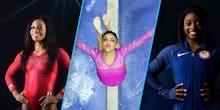 The 2016 USA Olympic gymnastics team is making history. This time, three women of color earned spots on the team to compete in the 2016 Olympic Games in Rio de Janeiro, Brazil. 
Gabby Douglas, Simone Biles and Laurie Hernandez were selected to represent the U.S. in the Olympic Games after competing in the Olympic trials in San Jose, California. Aly Raisman and Madison Kocian round out the five gymnasts on the team.
Meet Douglas, Biles and Hernandez and learn about their wins in the field, their upbringings and their celebrity crushes.
Gabby Douglas
You may have already heard of Gabby Douglas, who was a part of the Fierce Five in the 2012 London Olympic Games. She made history by becoming the first African-American gymnast to win the individual all-around championship title.
She is the 2016 American Cup champion, 2015 World team champion and silver medalist in the all-around competition, according to her USA Gymnastics profile. In 2012, she was named Associated Press' female athlete of the year. The most interesting thing about Douglas isn't about the medals she won, but the amount of sacrifice and work it took for her to become an Olympic champion.
Douglas wanted to train with Shawn Johnson's trainer, Liang Chow, but Chow's gymnastics studio — in West Des Moines, Iowa — was miles away from her home in Virginia Beach, Virginia. Douglas' mother, Natalie Hawkins, understood that for her daughter to achieve her dream of competing in the Olympics, she had to be trained under Chow, she told USA Today at the time.
Douglas, who is the star of her family's reality TV show Douglas Family Gold, has two sisters and one brother. They all are athletes, according to her USA Gymnastics profile. Her older sister, Arielle, was a gymnast and taught Douglas how to do her first cartwheel when she was 3, she told NBC Olympics. Then, at 6 years old, Douglas' sister convinced her mother to sign Douglas up for classes. If Douglas wasn't a professional gymnast, she said she would take up stand-up comedy. She told NBC Olympics Serena Williams is an inspiration and role model, and her biggest celebrity crush is Theo James.
Simone Biles
Simone Biles is dominating the gymnastics field; she is so good that she's been compared to Michael Jordan. The three-time world champion hasn't lost an all-around competition since 2013, and she is a defending champion for both the balance beam and floor exercises, Vox reported. Biles is also the first female gymnast to win three consecutive world championship titles, People reported. The 19-year-old is slated to win the all-around competition in Rio.
Like Douglas, Biles has a remarkable backstory. She's the daughter of Ronald and Nellie of Spring, Texas. He mother — a native of Belize, she told NBC Olympics — was addicted to drugs and alcohol when she gave birth to Biles, People reported, and the 4-foot-8 gymnast was in foster care until she was taken under the wing of her grandparents. Biles told NBC Olympics her father, Ronald, served in the Air Force for 22 years. Besides training, she said she indulges in watching Pretty Little Liars and obsessing over Zac Efron.
Laurie Hernandez
Laurie Hernandez is a relative newcomer to the national stage in gymnastics. The 16-year-old made her way to the U.S. Olympic team within just a year of advancing to the senior level. In 2015, Hernandez won the title at the U.S. Junior National Championships, espnW reported. She also represented the U.S. in international competitions this year, where she won the all-around competition and took home medals for the floor exercise and vault events.
Hernandez is a freshman from New Brunswick, New Jersey. She is the youngest member of the women's gymnastics team and the second Puerto Rican in history to represent the U.S., according to Remezcla. She has two siblings — Jelysa and Marcus — who are both athletes, according to her USA Gymnastics profile. She started gymnastics when she asked her mother to sign her up at a recreational gymnastics class in 2005. She told NBC Olympics her celebrity crushes are Dave Franco, Theo James and Zac Efron, among others.
Read More: