'OITNB' star Samira Wiley on Alton Sterling's death: "We need to remember"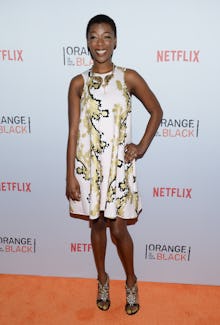 Orange Is the New Black has tackled relevant social issues throughout its run on Netflix, and season four featured some of its most resonant storylines to date. The biggest, and most powerful statement, was its allusion to the Black Lives Matter movement — a story that culminated in a tragic death. 
(Editor's note: Spoilers for Orange Is the New Black season four ahead.)  
The death of inmate Poussey Washington (Samira Wiley) at the hands of a prison guard pinning her to the ground, obstructing her breathing, was not just heartbreaking, it mirrored some of the controversial police killings, like Eric Garner's, that have sparked the movement. 
In an interview for her new film Nerve, in theaters July 27, Wiley said she was initially shocked and confused as to why series creator Jenji Kohan opted to kill off her character. However, given her importance in the show's Black Lives Matter story, she said she was honored to have her character chosen — especially as an audience favorite, one that viewers can imagine living outside the walls of Litchfield. 
"I've had conversations with Jenji about why Poussey," Wiley said. "One thing she says is that she's one character that you can really see her future. You want to do this to someone who you feel like has a future so it can hurt that much more. 'Cause it really hurts." 
The storyline feels all the more relevant following the deaths of two black men at the hands of police last week: Alton Sterling and Philando Castile. It's these deaths, Wiley said, that she wants people to remember — even moreso than her character. 
"It's unfathomable to think that we would still have new names that we need to remember," Wiley said. "People are really upset about Poussey. But I want people to be really upset about what's happening in the real world." 
As for how other people can show support for these issues, Wiley said we hold more control because we are going through an election year. Utilizing that power is one way the dialogue can continue. 
"Continuing to have a conversation," Wiley said. "Continuing to literally just have their names in your mouths is honoring them and honoring their lives and making sure that they didn't die in vain; to make sure that we are talking about these men; we are talking about the crimes that led to their demise; we are talking about all the things that trouble us. To know we have power right now in an election season, you know what I mean? To realize where we have the power. 
"If you feel powerless, know that at the end of the day you can vote. Little teeny things like that that help us feel like we have some control." 
The full interview with Wiley will hit Mic next week.
Read more: