Jamila Woods Releases Her Debut 'HEAVN,' an Ode to Black Girlhood, Healing and Chicago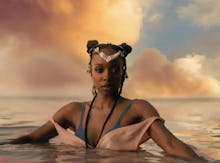 After subtly stealing the show with her understated vocals on tracks like Donnie Trumpet's "Sunday Candy," Macklemore's "White Privilege II" last year, Chicago-based songwriter Jamila Woods has finally unveiled her debut, HEAVN. 
The soft, smooth LP speaks explores the complexities surrounding black womanhood and Woods' relationship with her hometown of Chicago, over a range of soulful instrumentals produced by the likes of oddCouple and Carter Lang. It features a lineup of guest rappers and singers that reads like a who's who in the Chicago scene, including contributions from Chance the Rapper, Donnie Trumpet, Noname and Saba.
The 13-track album is streaming for free on SoundCloud and comes with a message from the rising artist about the socio-political themes found within HEAVN and the hopes she has for those who listen.
"HEAVN is about black girlhood, about Chicago, about the people we miss who have gone on to prepare a place for us somewhere else, about the city/world we aspire to live in," the message reads. "I hope this album encourages listeners to love themselves and love each other. For black and brown people, caring for ourselves and each other is not a neutral act. It is a necessary and radical part of the struggle to create a more just society. Our healing and survival are essential to the fight."
HEAVN includes several previously released singles that made viral waves upon their initial releases, including "Blk Girl Soldier" and "LSD," featuring Chance the Rapper. Its timing puts it on the crest of a wave of new releases from artists like Jay Z, Miguel and My Morning Jacket, all highlighting the need for healing during a time of continued violence, police brutality and social injustice.
Give Woods' HEAVN a full listen below via SoundCloud or download here.
Read more: