These New Venues are a Sign the Indie Music Scene in Los Angeles is Booming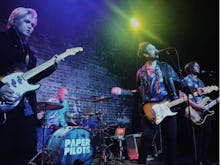 There may be no greater sign of a city's cultural vibrancy — or indeed its ascendance — than the health of its music scene. On any given day — or night — you can fire up your phone and swipe through a veritable garden of unearthly auditory delights via a conga line of 411 L.A. music blogs. There's Restless Nites, Grimey Goods, Buzz Bands LA, Oh My Rockness, Resident Advisor, the Facebook group LA Phun, Yacht's Five Every Day app, the Dublab email list. (And, by the way, if you want recos on the actual garden of earthly delights, local food critic Jonathan Gold's Twitter feed is as indispensable to LA nightlife, as are the 24/7 food trucks that could line the Pacific Coast Highway from Venice to Malibu.)
They all point to an abundance of around­-the-­clock live ­music riches at any one of the city's 513 (and counting) venues. 
Downtown's revitalization is anchored by renovated theaters such as the Mayan, the Teragram, the Ace, The Regent, and The Belasco. The Strip is still the Strip, albeit with less big hair and leather pants. The Viper Room has been remodeled, Troubadour is thankfully unchanged and uttering the words "The Roxy" or "the Whiskey" confers a gritty rock cache that all the spiked wristbands and smoky eyeshadow can't. 
The El Rey, the Wiltern, the Pantages, The Montalban and the Hollywood Palladium theaters are imbued with Hollywood glamour while farther east, The Echo, The Satellite and The Silverlake Lounge offer stages to the city's teeming indie rock scene.
On a larger scale there's the incomparable outdoor splendor of the Greek Theatre and the Hollywood Bowl, the sleek new Nokia Live venues surrounding the Staples Center and the renovated world-famous Forum in Inglewood with its glowing spaceship-like red exterior. Even Dodger Stadium will rock, thanks to a new deal signed with Irving Azoff's Oak View Group that promises to bring music back to Chavez Ravine.
This musical bounty aside, what bodes especially well for the future of LA's singular music scene is the preponderance of smaller venues that have come online in the last few months or are set to open later this year. Not only will they offer locals more opportunities for live music, but they'll also help foster a robust independent music scene from which greatness will inevitably arise.
The Hi Hat
The Hi Hat, in the increasingly hip northeastern berg of Highland Park, is the newest venue opened by Michael Blackman, whose team also owns nearby Hermosillo and Highland Park Brewery. 
"We opened in February and everything has been great," Blackman said. "This is our first music venue, and it is awesome to see and hear the myriad of bands." 
The Hi Hat offers both music and an innovative menu to the 300-capacity room that includes crispy potato tacos and fried pickled cauliflower. The crowd, says Blackman, is comprised of "music fans from all over LA — both old and New Highland Park. In general, people are here to listen to music, regardless of make, model or year, and the vibe is super chill, warm and creative."
Resident
In the rapidly gentrifying (and misnamed) Arts District, Resident is the new venue of choice with a 210-capacity performance space and a beer garden that can fit another 300. Designed by Jacek Ostoya, (who also designed San Francisco's Harlot, Novela and Barbarossa clubs), the venue features a retro Spartan Trailer outfitted as a bar, a heated bench and a space for rotating food truck grub.  
"At least 10 times per night someone walks in and I see their face light up like they're entering Narnia or something," said music booker Duncan Smith, who formerly worked for Spaceland Presents. His favorite show since opening in December? "Prince Rama. They had every single person in a really full room going crazy. They had the crowd onstage and the singer jumping off the bar into the audience. It was wild in the best way possible."
The Lost Room
The Lost Room, in Echo Park, which opened in November, is literally just that. With an 80-person capacity, the Sunset Boulevard hole in the wall is an unassuming space decorated with exposed wooden studs and paintings hung on the walls. The venue offers up an alternative for artists who want to play to a cosy, intimate crowd and shows have included singer-songwriter Cillie Barnes, Mr. Pauer and the Black Watch. 
Located three blocks away from Echo and the Echoplex, the renovated Lot 1 Cafe, and adjacent to the British pub The Lost Knight which also boasts independent live music with cover free shows has its perks — the Lost Room joins a list of live music venues offering a wealth of music options just a few blocks apart.
Highland Park Bowl
Highland Park Bowl reopened after a two-year renovation with a full 300-capacity music venue, bowling alley and food service. The space on North Figueroa Street had been a punk rock dive known as Mr. T's Bowl that began booking shows in the early '90s and has since been renovated by the 1933 Group, which also owns Harlowe, Sassafras and Bigfoot West. They stripped the space down to its original 1927 foundation dating back to Prohibition era. 
Back then, Highland Park Bowl offered more than just bowling, of course. "In the very front you had a pharmacy, the other side you had a live music room, in the back you had the bowling, and then upstairs you had doctors' offices" says Bobby Green, one of the partners in the 1933 Group in an interview with KQED News. "You would...go upstairs, get a prescription for whiskey, come down to the pharmacy, get your whiskey and then hang out."
After an 18-month, $1.5 million dollar renovation, Highland Park Bowl has reclaimed much of its former glory with a truly stunning masterclass in preservation — an eight-lane refurbished bowling alley and a horseshoe bar with everything either put back to its original use or repurposed. The space retains all its original charm including the original wooden arches, vintage art on the walls, old bowling pins converted to bar lamps and chandeliers crafted from old pin setting machines. 
Underground Venues
Tucked among these high-profile new venues are a couple of under-the-radar spots that reward the effort it takes to find them.
Basic Flowers is a white box and self-described "artistic community space that houses a vibrant creative group of people, open for all event types day and night at a secret DTLA location." The space (which minimal Googling will reveal to be located at 242 South Broadway) recently featured the Renderers on New Zealand's famed Flying Nun Records, along with Metal Rouge and Gabie Strong. The venue also features stand-up and ugly sweater nights!
Located in the more settled Los Feliz neighborhood, Non Plus Ultra ("Nothing Further Beyond") is perhaps the most underground recent venue, with little listed on its Facebook page other than a show in June by the raw and sometimes tortured singer Xiu Xiu. One particularly memorable show in mid-March involved the singer and lead guitarist of a band named Wam Dingis smashing a vintage guitar to smithereens before being drenched by no less than three cans of beer.
What then, if anything, do these new venues in Los Angeles have in common? They are the shelters for Los Angeles' coruscating music culture, where car-bound Angelinos can revel, dance and lose themselves to incredible sounds that help make this city golden.