ASOS Enters the "Plus Size" Debate After Calling the Term "Whack"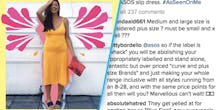 ASOS, one of the few major retailers that has embraced plus size clothing, had a bit of a social media kerfuffle on Monday, when fans took issue with its embrace of the "plus size" label. 
In an Instagram post — which has since been edited — ASOS featured model Naomi Shimada, who identifies as U.K. size 16, and identified her as a "plus-size model and travel filmmaker." 
Some commenters think that that modifier was unnecessary. 
"Plus size!?!? How about just model. Why label her plus size? Just lost a lot of respect for you guys," one commenter noted. Another: "How about just 'model and travel filmmaker...'" 
The outrage was reminiscent of when Amy Schumer took offense to being featured in Glamour's entirely plus-size issue, and a reminder of just how divisive the term still is. Although there are models who are rebelling against being called "plus size," from Ashley Graham to Jordyn Woods, there are also models, like Shimada, who are OK with it. 
In a piece for the Guardian, Shimada wrote: "Now I feel frustrated. I'm 28 and a size 16, and 'plus' still feels like a dirty word in the fashion world. There's such fear and paralysis and shame and confusion associated with anything size-related. And within the plus industry, too." 
What ASOS ended up doing was editing the caption, leaving it to read just "model and travel filmmaker." And in an effort to manage their feed, ASOS began to comment back at specific critics, which sparked backlash. 
"You're right, plus size is a whack term and we've removed it. We love all bodies at ASOS," the company account replied to one user. 
This didn't make some ASOS fans (and now critics) happy either. 
"Plus size is a term that helps me find the clothes that fit my body. It isn't an insult. Get a grip," one commenter wrote.
Critics also found issue with ASOS calling the term "plus size" "whack," arguing that ASOS is therefore dismissing the label and the many people who buy clothes labeled just that. 
"I think the offense comes from seeing you state that such labels are 'whack,' which, as I mentioned before, was quite a flippant way to address the issue," one commenter wrote. "It also disregards the fact that such labels actually are important — just as you search maternity if you're pregnant, sports or active for gym clothes, petite if you are short or particularly small, you search plus size if you are larger. I cant understand what is 'whack' about that. What is 'whack' to me is that this specific model would be considered plus size — perhaps you were just originally referring to the upper size range of the dress?" 
And over on social media, people who were once thrilled with ASOS' embrace of clothing above a size 12 are feeling betrayed. 
In response, yet again, ASOS issued a statement in the post's comment section, revealing that it's still grappling with a fan base that's split: "It's a really interesting debate — we label petite, curvy, tall and maternity on our site to help people find the best fit for them.
"Some of our community find 'plus size' empowering, which is awesome — but we know that others find it offensive, which we don't love. We'd love to invite you to share more of your thoughts on the subject and help us get it right for the community."
Perhaps, rather than brands taking action on social media, this sort of labeling should just be left up to the models (and customers) themselves, who are free to define their bodies any way they want to. That way, retailers like ASOS won't be caught in "damned if they do, damned if they don't" situations and the debate can be less controlled by companies, and more controlled by the women who are most affected by these labels. 
Read more: