Queen Latifah Proves She's Still the G.O.A.T. Performing Her Own Tribute at Hip-Hop Honors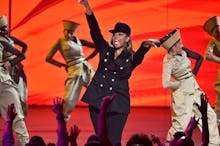 Queen Latifah has played so many roles in her career — actress, model, comedian, talk show host, record producer — it's easy to forget she is first and foremost one of the greatest MCs to ever bless the mic. She reminded the world of that talent Monday night, performing her own tribute at VH1's Hip-Hop Honors. 
Latifah came out showing off her impressive range, belting the show tunes that earned her that Chicago Oscar nomination, before spitting some verses from "Ladies First." She was flanked by Da Brat, Rah Digga and Lady of Rage, MCs she opened major doors for. They brought their own heat, of course, but no one shined liked the Queen. 
In a video accompanying her performance, Queen Latifah also gave an epic thank you to the art form that put her on the map. "Thank you, hip-hop!" she shouted in a taped interview, recalling what she thought to herself when she got nominated for her Oscar, sharing how hip-hop saved her life and the lives of so many its fans. 
Of course, that music can only do so when it's coming out of an MC dope enough to make you holler and scream — like the one and only Queen.
Read more: