VH1's Hip-Hop Honors Was the #BlackGirlMagic Moment We All Needed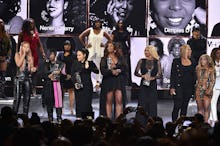 VH1 honored some of hip-hop's most revered queens at the Hip-Hop Honors Monday at Lincoln Center in New York City. 
The awards show returned after a six-year hiatus to pay tribute to Queen Latifah, Missy Elliot, Salt-N-Pepa and Lil Kim, with all-star performances by Fantasia, Monica, Tweet, DeJ Loaf, Teyana Taylor, Remy Ma, Eve, Da Brat and several others.
In a poignant opening with a timely message, Alicia Garza, co-founder of Black Lives Matter, and Mic senior editor and correspondent Darnell L. Moore addressed the recent incidents of police brutality across the United States.
"In challenging times, our music heals us, unites us and uplifts us," Moore said. "Black activists are fighting to build a world where all forms of violence — in Baton Rouge, Minneapolis and Dallas — are no more. A world where Sandra Bland, Alton Sterling and Philando Castile might still be alive."
The night was at its most powerful as honorees and presenters — including first lady Michelle Obama, Phylicia Rashad, Eve, Kelly Rowland, cast members of Orange Is the New Black and others — emphasized how these hip-hop legends charted a course in empowerment for young girls. In their addresses to the crowd, Queen Latifah, Lil Kim and Salt-N-Peppa all noted the recent violence, calling on everyone to work to create a more unified and supportive world for the next generation.
Here were some of the most inspiring moments.
Pepa on self-expression for young girls
Queen Latifah shouts out her strong mother and grandmother
Faith Evans givin' love to Lil' Kim
Spinderella on determination
Missy on being proud of her work
Lil Kim on the power of L-O-V-E
And Twitter was there for every moment of the #BlackGirlMagic awards show:
Read more: