Grindr Asked Users About Filtering Matches Out by HIV Status and People Are Pissed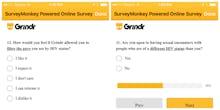 People looking to use Grindr to hook up with other men may soon find themselves zero feet away from discrimination. 
Grindr users have expressed dismay at a series of questions posed to them in an in-app survey. The survey asked respondents questions about their HIV status, HIV-testing history and whether they would like the option to filter out potential matches by HIV status. This suggestion has led some to fear that the app might allow people to erase HIV-positive men from their feeds. 
On Wednesday, Australian doctoral candidate Daniel Reeders posted screenshots from Grindr on his blog. He received the screenshots from a colleague in Montreal who posted them in a "group for researchers interested in hook-up apps."
"I was alarmed," Reeders, who does research on HIV stigma, said in an email to Mic. "It is absolutely irresponsible of Grindr to help make HIV invisible to negative men."
Reeders pointed to research that explained why such a move would be irresponsible. One of the most effective interventions for HIV stigma is actually social contact with other HIV-positive men. And, those men who stigmatize others by HIV status have been proven to have a greater need for HIV prevention education. 
Put simply: Distance between HIV-negative men and HIV-positive men exacerbates stigma and risk for HIV.
"There's an inherent logic of exclusion that so many gay men take as normal and natural and it leads guys to put themselves at risk," Reeders said. "The highest risk encounter you can have is with a guy who has recently been infected but still thinks and says he's negative."
Just as bad as the public health ramifications, according to one activist, is that this filter would actually punish men who are open about their HIV status. 
"I am concerned about the possible direction of creating an environment on Grindr, by Grindr, of not encouraging disclosure and creating a false sense of HIV prevention by filtering out those that honestly admit to living with HIV," wrote HIV-positive activist Josh Robbins in a blog post on Thursday.
Currently, 30.2% of HIV infections occur because a person carrying the virus doesn't know their HIV status. Collectively, about 91% of HIV infections occur because a person is either undiagnosed or not on HIV medications. However, when a person does know their status and is on successful treatment, there's a very low chance of transmitting the virus. The PARTNER study's preliminary results even showed that among hundreds of couples having sex thousands of times, no HIV-positive partner on successful HIV meds and with an undetectable viral load ever transferred the virus.
Reeders said the study would actually be a terrible move for HIV prevention. Several Twitter users also expressed frustration.
In a statement, Grindr did not indicate they had any plans to allow people to filter out potential partners by HIV status, but rather said they were responding to increased talk about HIV among its membership.
"We have observed a significant increase in user profiles openly discussing their HIV status and test dates," a Grindr spokeperson said in a statement to Mic. "Given that this has not been a part of our profile options to date, we are surveying users to determine both their desire to share this information, and ways to prevent stigma and provide proper support. Sometimes this involves asking uncomfortable questions."
Grindr said these conversations foster "ongoing and continuous education" and that these surveys are a routine way to better understand its membership.
However, Reeders contends that surveying people about potential HIV-status filters is not the stance Grindr should be taking.
"Grindr must commit to promoting equality within gay communities — for people with HIV, people of color, transgender and intersex people and people with disability," he said. "If you want to help with HIV prevention, stick to promoting HIV testing and prevention strategies including treatment, condoms, and pre-exposure prophylaxis, not failed strategies like status discrimination."
Read more: