Republicans Debate Merits of Porn, Divorce and Junk Food at GOP Platform Meeting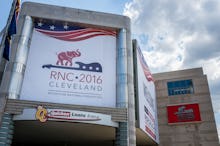 Republicans met in Cleveland Monday to draft the GOP platform — a meeting that led to some eyebrow-raising debates on issues not typically associated with such staid affairs, including whether porn is a public health crisis and if laws should make it harder for couples to divorce.
The platform committee meetings — which take place every four years in the run-up to the Republican National Convention — often lead to heated arguments over policy. But Monday's 12-hour-long meeting led to perplexing debates over controversial topics for a platform that is ultimately a little-noticed and non-binding document.
And any damage done by adopting divisive rhetoric in a platform is self-inflicted.
The full platform is expected to be completed on Tuesday. Here are the most bizarre discussions from the platform committee meeting, per reports from those who attended:
Porn
The Republican Party's preliminary platform includes language that declares porn is a "public health crisis" with "harmful effects" that are "destroying the life of millions," according to Time's Zeke Miller.
"We encourage states to continue to fight this public menace and pledge our commitment to children's safety and wellbeing," the porn amendment reads, according to Miller, who cited the language of the platform — which was not released to the public.
Junk food
The platform committee — which is comprised of two members from the 50 states, the District of Columbia and every U.S. territory — also debated whether food stamp recipients should be barred from buying "junk food."
The discussion at one point began debating what constitutes junk food, including whether all types of Oreos would fall under a proposed food stamp junk food ban.
The amendment ultimately failed.
Divorce
Divorce was also up for debate during the platform committee, when members discussed whether to end "no-fault divorce" laws.
Currently, a married spouse in every state can file for divorce without offering proof that the marriage is broken. A fault-based divorce would require a spouse to prove that their partner did something to break the marriage, such as adultery or abuse.
The debate is interesting, given that presumptive GOP nominee Donald Trump has been divorced twice.
The amendment did not pass.
Electromagnetic pulse bombs
Scientists have debunked the threat of electromagnetic pulse bombs — or weapons that some fear could wipe out America's power grid if detonated.
But that didn't stop the RNC platform committee from passing language to declare that EMPs are "no longer a theoretical concern" and calls for legislation forcing the U.S. to "protect themselves from EMP."
Failed presidential hopefuls Ben Carson and Rick Santorum brought up the threat of EMPs during an early GOP primary debate in January. And Newt Gingrich, reported to be one of Trump's likeliest vice-presidential picks, also raised the issue in his failed 2012 run for president.
Read more: