Star Wars Land: Disney Reveals Concept Art for Upcoming Disneyland Attraction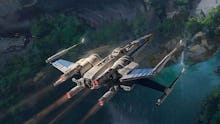 While we're still far, far away from a completed look at Star Wars Land — Disneyland's Star Wars-themed attraction — the latest concept art released by Disney is a promising start. The full image gives a bird's-eye view of what the park would look like, though one can imagine fans won't see an X-wing flying overhead in the actual park. 
Though an opening date for the 14-acre theme park has yet to be announced, Disney said in a press release accompanying the concept art that construction began in April. It also offered additional details — for example, the Millennium Falcon will be there in all its beaten down glory. Piloting the ship will be part of the Star Wars Land experience, but don't expect to make a Kessel Run without paying extra.  
"Nestled between towering spires of rock, this thriving port contains a seemingly familiar architecture of markets, landing zones and buildings," the press release reads. " Look closely and you may find hints of some of the thrilling experiences that are coming — like the Millennium Falcon peeking out of one of the cargo bays, marking the location where guests will get the opportunity to pilot the fastest hunk of junk in the galaxy." 
It's still early, but the Force appears to be strong with Disneyland. 
Read more: