Police Protest Minnesota Lynx Black Lives Matter Support With Walkout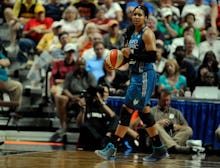 Remember Lt. Bob Kroll? 
He's the president of the Minneapolis Police Federation and, according to certain sources, a racist. As the Minneapolis Star Tribune reported Wednesday, he's also applauded four police officers who walked away from their posts at a Minnesota Lynx WNBA game on Saturday, during which players showed support of the Black Lives Matter movement. 
"I commend them for it," Kroll said. "Others said they heard about it and they were not going to work Lynx games. If [the players] are going to keep their stance, all officers may refuse to work there."
Off-duty officers volunteer to work Lynx games; they can always stop, Kroll said. The officers reportedly took issue with players' donning pro-BLM shirts in the wake of the recent, fatal shootings of Philando Castile by police in Falcon Heights, Minnesota; of Alton Sterling by officers in Baton Rouge, Louisiana; and of five officers in Dallas, Texas, following a peaceful BLM protest. The players also spoke out against racial profiling in a press conference. 
That's a point of contention for Kroll, who's been dragged for alleged ties to white supremacist groups. He belongs to City Heat, a police motorcycle club that, according to the Anti-Defamation League, displays racist symbols. In the past, Kroll has posited that his off-duty activities have no bearing on his on-duty comportment. 
He's also defended the two MPD officers who shot and killed Jamar Clark in November 2015. The incident prompted protests in Minneapolis, which in turn prompted Kroll to call BLM a "terrorist organization." He's no friend to BLM, so his stance on the walkout is really no surprise. It has resulted in his very own Twitter hashtag, though: #KrollTroll. 
Read more: